The weather is finally warming up (fingers crossed)...and that means it is time for outdoor gatherings to commence! Today on Studio 5, I showed some fun ideas for sprucing up your outdoor bash. These ideas can be used for weddings, showers, BBQ's, luaus-the list goes on and on.
All of the projects in the segment were created using the 2011 collections from
Fancy Pants Designs
. I love the "Beach Bum" and "Beach Babe" lines for water parties and luaus and the "It's the Little Things" collection is fabulous for weddings and showers.
Hanging Party Vines-30 minutes per vine $5 per vine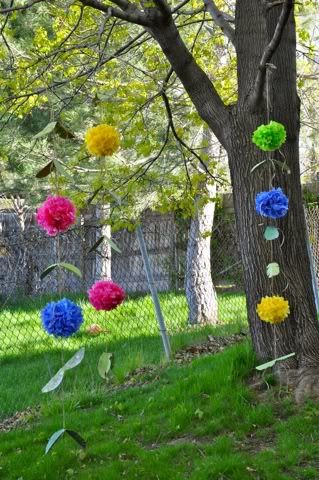 What a great way to add pop and color to a big outdoor space. These vines can be hung from trees, balconies or gazebos. The inspiration for these vines came from the fabulous
Once Wed
website. This fun site has loads of ideas for decorating large spaces for parties and events. I chose to make up my vines in bright summer colors that would be great at a Luau or water themed party. For a more formal affair, try making them out of plain white tissue with black and white patterned leaves. They are very simple to make and they are also great for tight budgets. Click
HERE
for a step by step tutorial on these vines.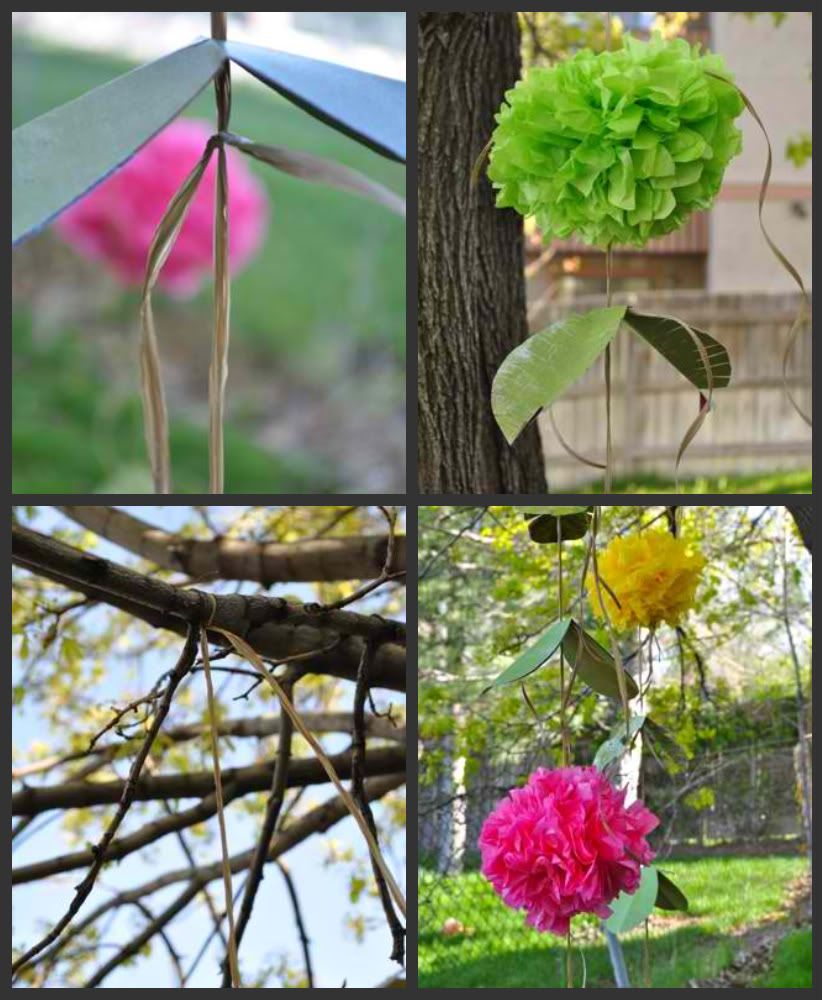 Paper Party Lanterns- 5 minutes and $1 per lantern plus the cost of lights
Lighting is such a powerful statement in decorating. I love the idea of having these custom paper lanterns hanging around a garden reception. Whether you hang them on a fence, in trees, off of a gazebo, or just along a railing, they are sure to catch the eye of your guests.
Once again, the inspiration and instructions for these lanterns can be found at
Once Wed
. The template provided at Once Wed calls for 14X14 paper. Because I wanted to use the beautiful patterned paper from Fancy Pants, I reduced the pattern to fit on a 12X12. You can do this at any copy shop.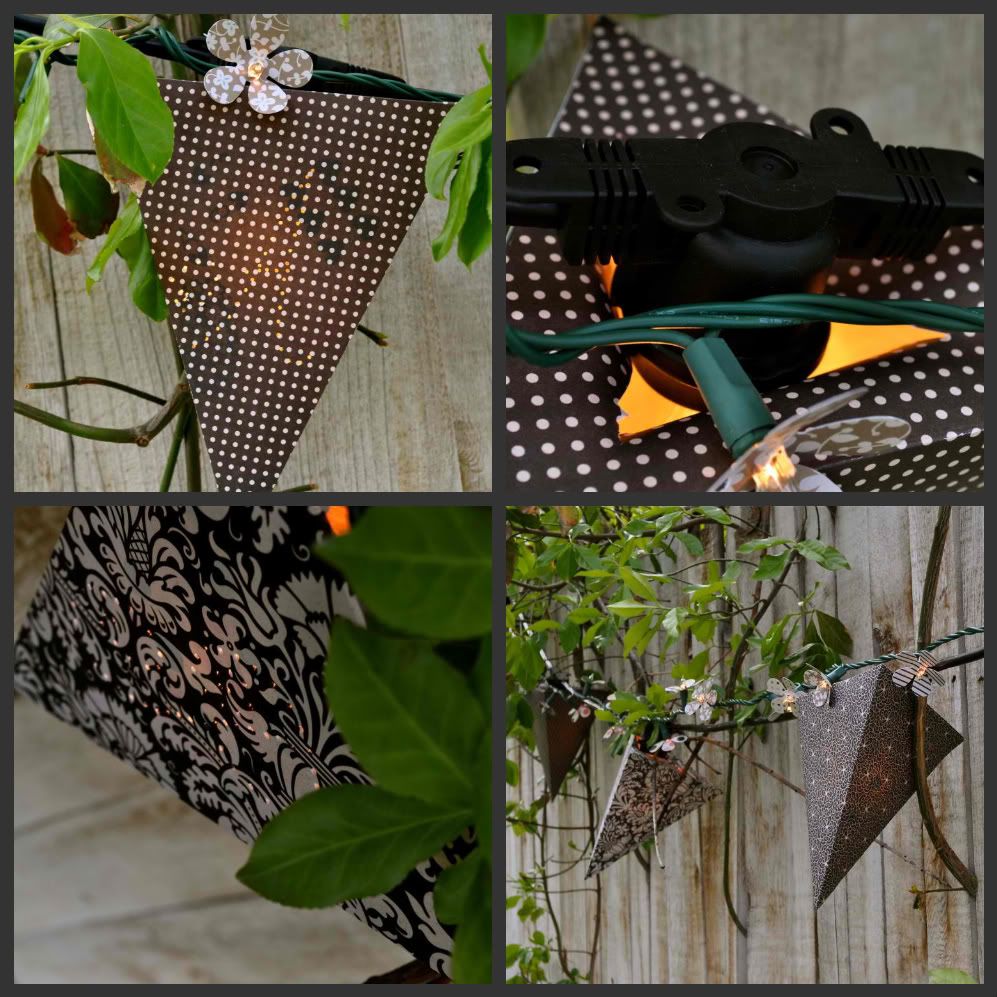 I searched high and low for a high impact strand of lights to make this garland. I ended up finding a great source for all sorts of custom strands. Duncan Lighting in Bountiful was amazing to work with. They can create any length of cord for you. They also rent out the more industrial hanging lights for events!
Blooming Flower Christmas Lights- Quick and super inexpensive
In order to add a little pizzaz to my hanging light garland, I dressed up a strand of regular old christmas lights to hang along side it. To make the blooming vine, I just punched paper flowers using my favorite retro flower punch and stuck them onto each bulb. I dab of hot glue secured the flowers in place. So cute and so simple!
Transparency Luminaries- $1-$2 each-3 minutes each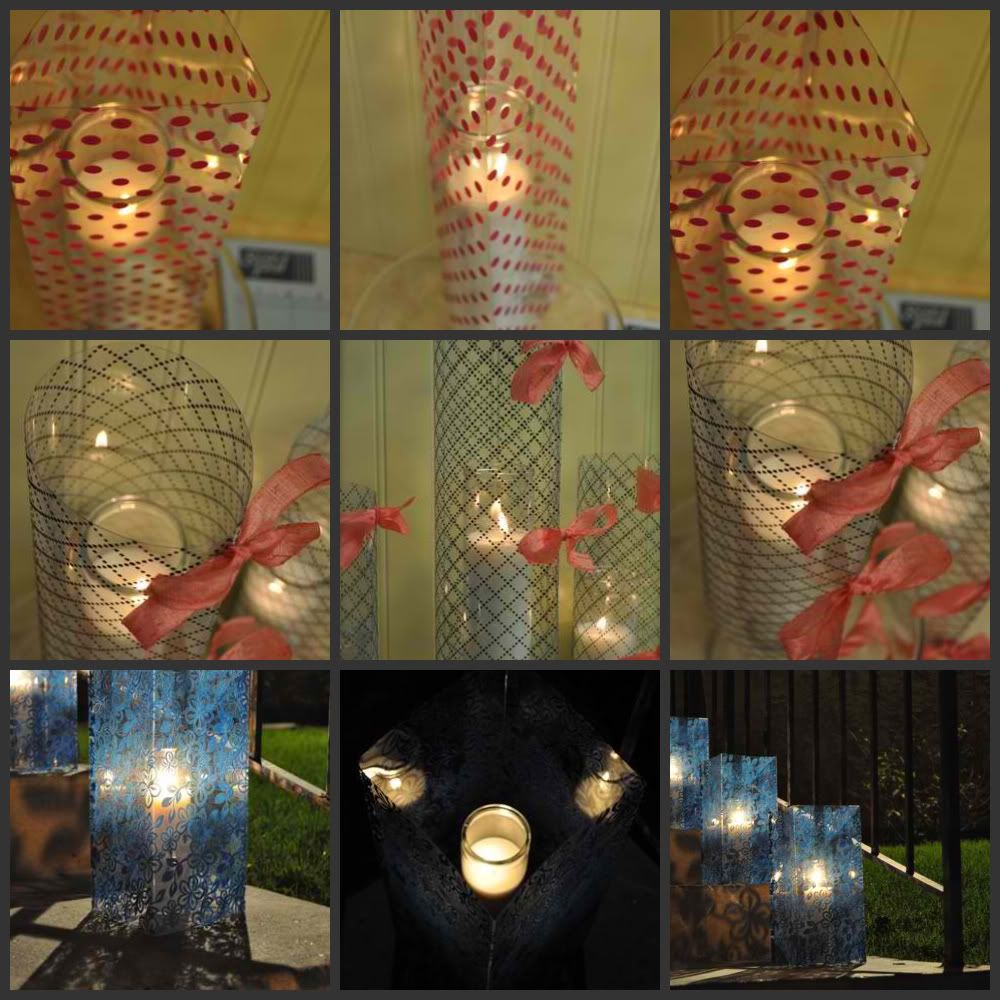 These fun luminaries make a great centerpiece. They also look fabulous along a path or stairway leading to your event. I loved using the different printed transparencies from Fancy Pants to create a dramatic candlelit effect.
I made several different styles of luminaries out of the different patterns of transparency. Get creative with folding and bending to create different looks. You can also trim the transparencies for shorter candles.
For the cylinder holders: punch three holes in two sides of each transparency. Roll up transparency so that holes match up and tie closed with ribbon.
For the square holders: scor two sheets of transparency at 5 3/4 and 11 1/2. Use scor tape or clear adhesive to fit square pieces together.
For Triangle holders: scor one sheet of transparency at 3 3/4, 7 1/2, and 11 1/2. Fold and secure using scor tape.