Today, I must admit, I am thinking about anything to keep my mind off of the fact that my air conditioning is still not in working order! My thought process has gone something like this:
Sweat---Heat---Summer---Outside---Bright Colors---Blowing to cool off---Pinwheels!
I think pinwheels are such a fun project for kids old and young alike. They are super easy to make and can really dress up a centerpiece at a summer party. Check out a few of my favorite online pinwheel finds:
My mind started spinning when I saw the above photo from
www.norman-photography.com
. What a fabulous idea for outdoor party decorating. These particular pinwheels were used as favors for a wedding. How cute would this same idea be for a baby shower or neighborhood BBQ?
I love that this pinwheel was created using two pieces of coordinating paper. This pinwheel is definitely a step up from your basic square pattern, but it is still very doable. I found this little sweetie at
http://paperexploits.wordpress.com
.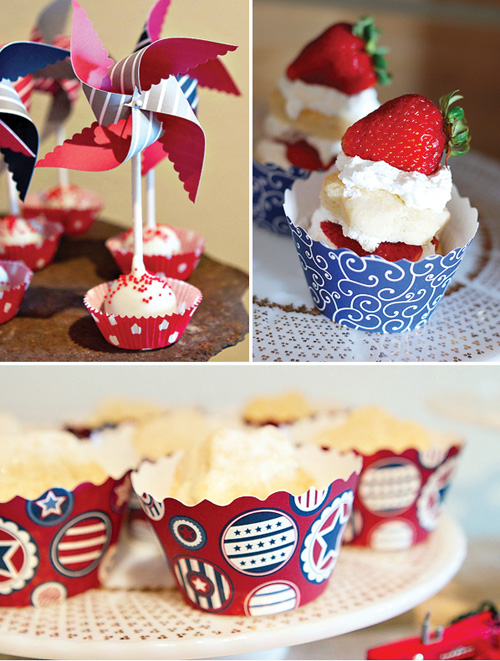 How about a little mini pinwheel for finishing off a fluffy cupcake? I love the idea of using miniature versions for food decor. Pinwheels would be great in cakes or even stuck in bowls of popcorn or salad. This idea came from
http://www.pepperdesignblog.com
.
I can't think of a happier way to line a path than with a row of cheerful pinwheels. Lead your guests to your event by sticking handmade pinwheels intermittently along the walkway. Thanks to
www.thecheshirekat.com
for sharing this fun idea.
Now that we are all feeling inspired to start crafting up pinwheels of our own, here are a few sites that offer downloadable templates. Remember to get creative with the templates by changing the size and even shape of your cuts.
For a very basic pinwheel: