Paper banners are ideal for decorating large spaces. Today on Studio 5, I showed 5 tips for creating vertical banners that make a statement. Check out my tips along with instructions and pictures of each of the banners I spotlighted on the show here:
Quantity Over Quality
- Take a page from Anthropology's book of decorating: If you have a large space to decorate, aim for simple, quick banners that can be put together without a lot of effort. By combining multiple strands of simple banners, you can create a big WOW factor in your space.


To create this mantle decor, punch various sizes of circles from double sided paper (I used Bo Bunny's "Welcome Home" collection). Using a thick needle threaded with bakers twine, thread each circle onto the string. To secure each circle in the desired spot, tie a slip knot in the thread between circles. Mix up your paper and sizing to give a random look.


Try hanging strands from mantles, shelves, hooks, windows, ceiling, or chandeliers. 

Double the Fun
- You can double the impact of a vertical banner by just added a 2nd side. This tip is especially important if you are going to be hanging your banner in an area where it can be viewed from multiple angles (chandelier). When making a double sided banner, try using jump rings or ribbon to encourage the banner to spin.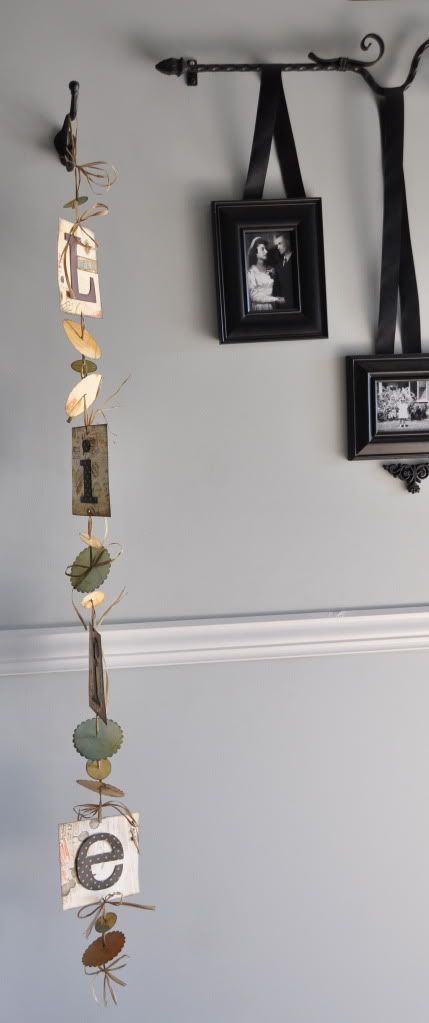 Make a "Live Life" banner by cutting 6X6 squares from Bo Bunny's new Et Cetera line. Add your own lettering (I cut mine with my Silhouette digital cutter). Then comes the fun part of added bling and bits of fun. Link pieces together using raffia, ribbon or thread. Alternate blocks with circles or other shapes to give variety.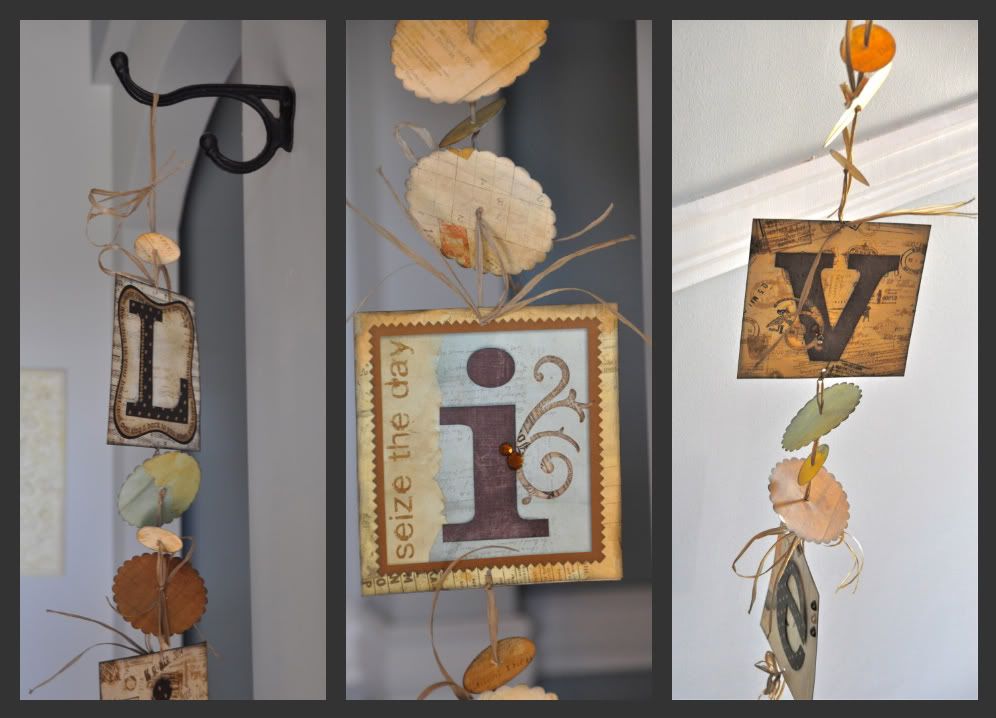 Try making turning word banners for special events like birthdays or showers.

Break the Chain-
When creating a vertical banner, don't chain yourself down to single pieces placed in a solid line. Get creative with your layers and build a banner with interest.


To create this Fall door hanger, create an accordion circle (accordian fold strips of paper and adhere edges together, then flip flat and glue). Bo Bunny's "Forever Fall" line was perfect for this Autumn project. Adhere the circle to a piece of chipboard to give stability to the hanger.

Layer lots of goodies and lettering to the top of the accordian. To "break the chain," punch several holes in the chipboard base and thread multiple strands of raffia through each hole. Die cut various leaves and string them at different lengths from each raffia strand. A bow on the top adds the final touch for vertical hanging.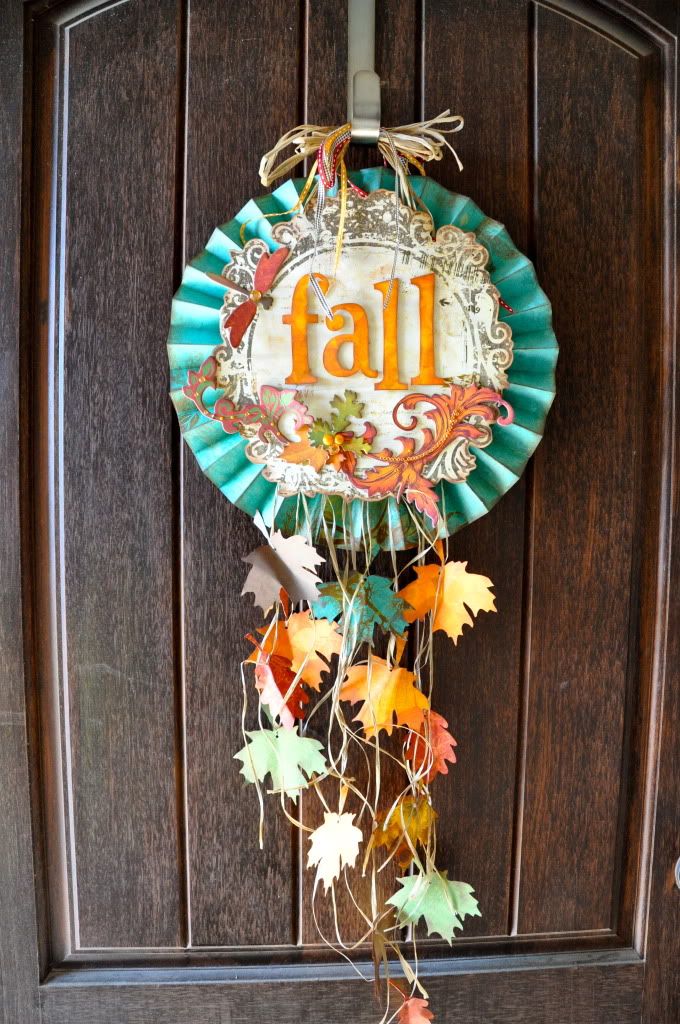 Don't Reinvent the Wheel-
There are so many ways to "upcycle" an adorable banner base. Get creative and use pre-designed pieces as a starting point for your project. Decorated chipboard albums make great building blocks for vertical decor.


This sweet sixteen banner was created with the pre-decorated mini album from the "Sweet Tooth" line from Bo Bunny. It was so simple to add a few embellishments and goodies and string the pages together to create a fun, double sided hanger.
Consider using other pieces like frames, plates, or wood to start your album off right.

Make a Scene
- Think about telling a story with your vertical banner (this tip is especially great for door hangers). Use different shapes and paper pieced items to create a theme and give variety to your banner.


You can recreate this birthday banner with the
Olive the Owl pattern
. The owl and sign were pieced together using the "Garden Girl" line from Bo Bunny. To help create the scene, tie actual twigs to the owl banner.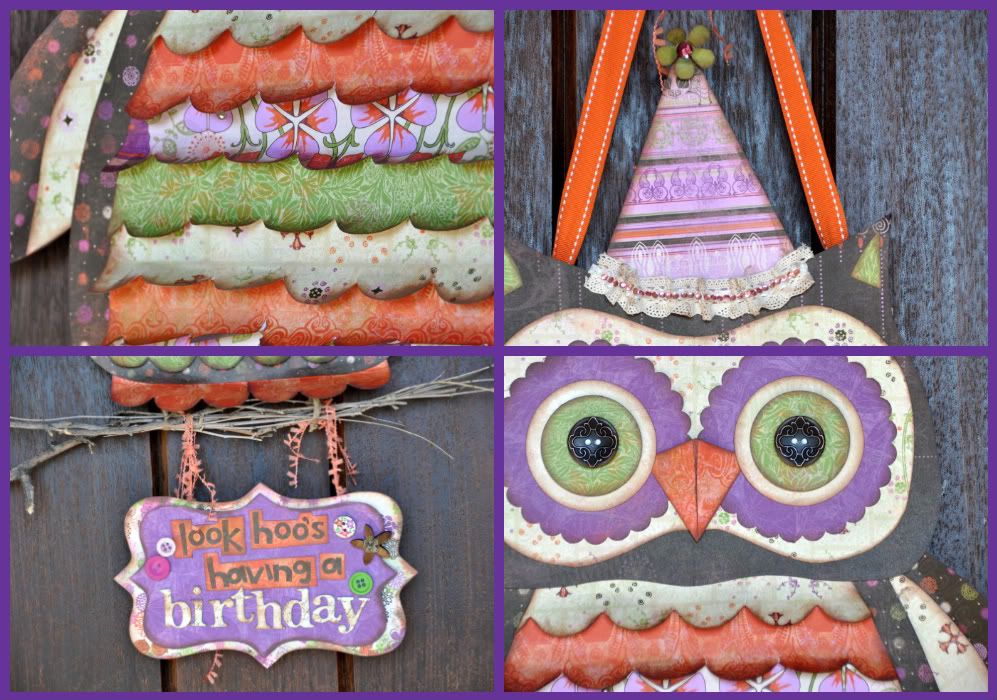 I loved creating these fun banners that bring so much personality and color to a door or wall. I hope you enjoy creating an original vertical banner of your own!