A Gift Can Never Have Enough Accessories!
I love an accessory! Purses, scarves, jewelry, hats....I just love them. And, it turns out, accessories make great little gift trimmings. Adding an accessory to your packaging is a great way to wet the palette of your gift's recipient. It gives them just a little taste of the wonderful gift inside. Try using headbands, flowers, necklaces, scarves, broaches or belts to spice up your wrapping.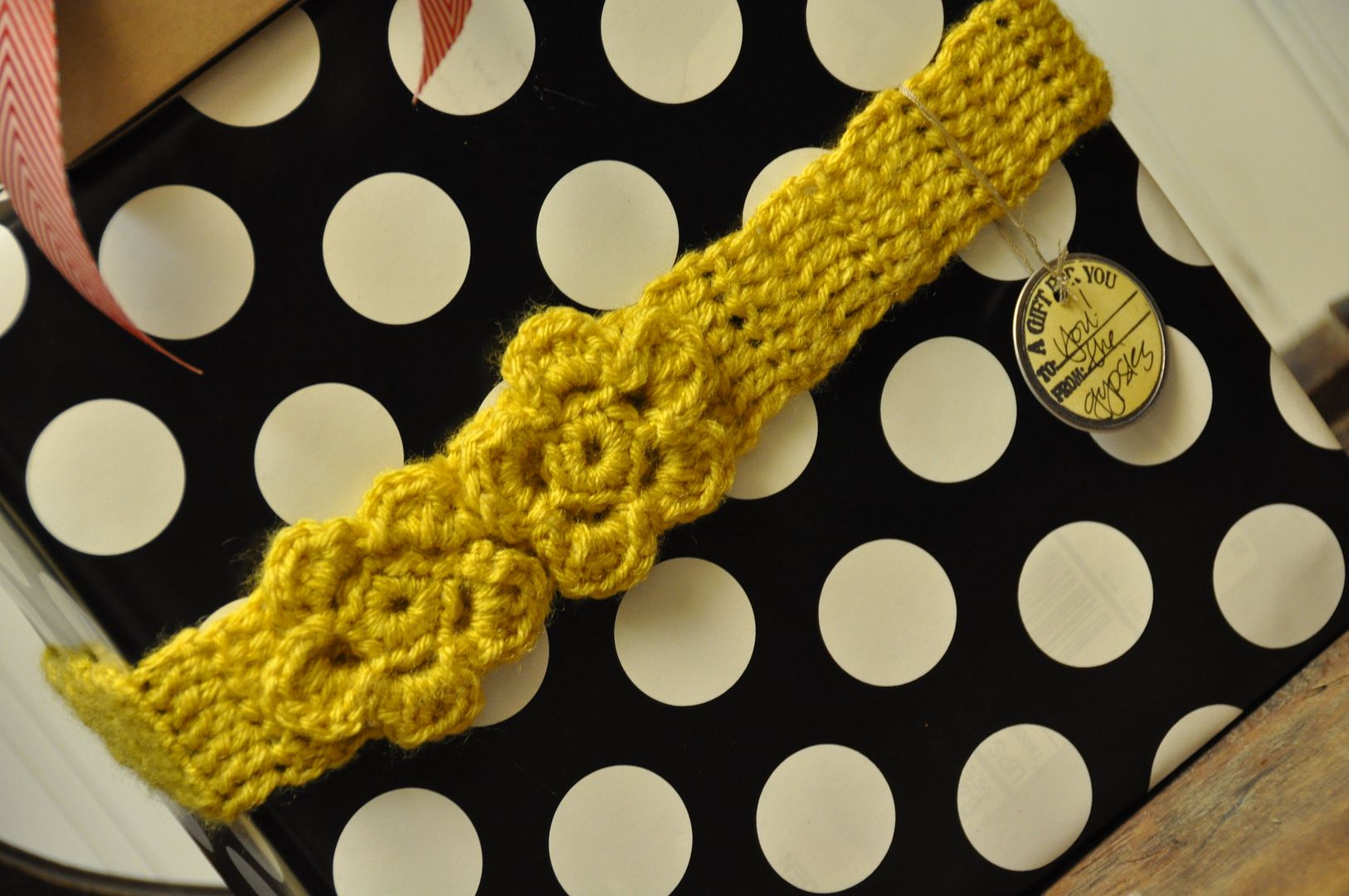 A hand crocheted headband ties easily around a package to create a band. I topped this package off with a simple round gift tag hanging from the headband.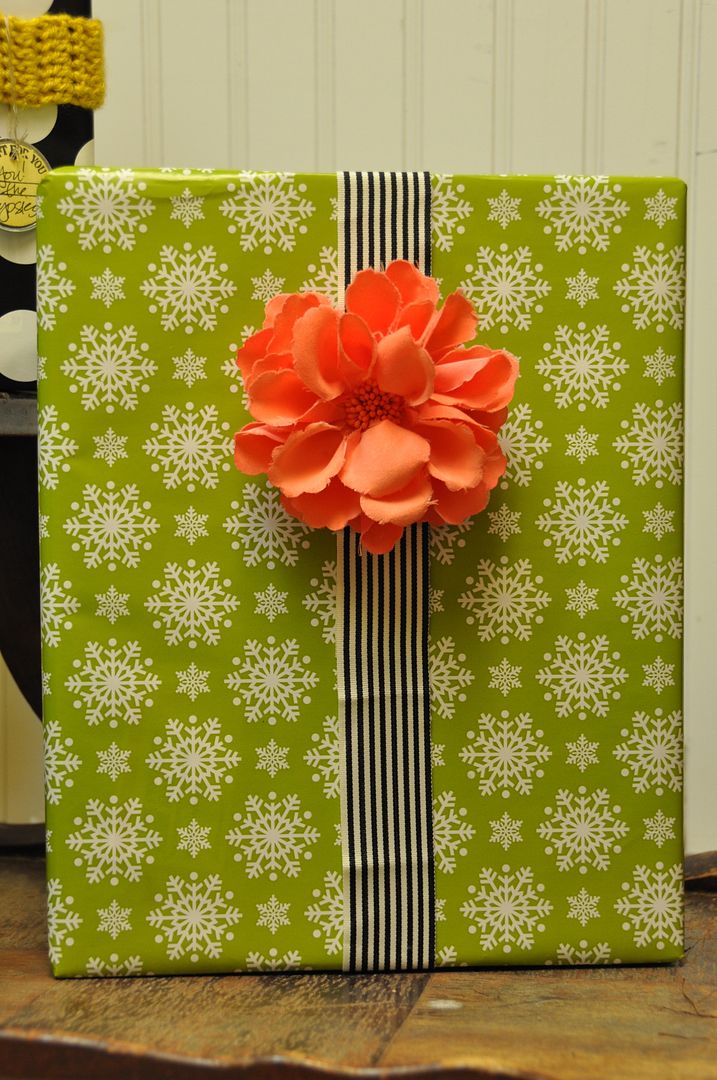 These clip or pin on accessory flowers make great wrapping decor! Simply clip your flower onto a ribbon that had been secured around the package. The recipient can use the flower, ribbon and whatever waits inside the box!
This cute little resin necklace is clasped onto the ribbon that is tied around a simple cardboard box. I love the simplicity of this package that really makes a statement.
Putting a handmade touch on a gift says "You are Special to ME!" These fun handmade bows can be created from any double sided patterned paper and are a great way to trim a gift.
To create a handmade paper bow of your own, you will need:
Eight 6X1" strips, Four 5x1" strips, One 4x1" strip cut from double sided patterned paper, one long brad *Hint-bows are much easier to manipulate with lighter weight paper
1. Hole punch each strip at the top and bottom as shown above.
2. Start threading strips onto the brad, beginning with the 4X1 strip. Make this strip a loop (overlapping holes) and place through brad.
2. Start threading the 5" strips. Place one hole through the brad and then twist the other side around and place the hole through the brad as shown. Continue with all four 5" strips. *Hint-pay attention to the direction that you place strips on the brad. You can alternate backs and fronts for a multi-patterned bow if you would like.
3. Begin threading with the 6" strips and continue until all eight strips are on the brad.
4. Open up brad clasps to secure strips in place.
5. Add a pop dot or strong glue dot to adhere the completed bow to your package.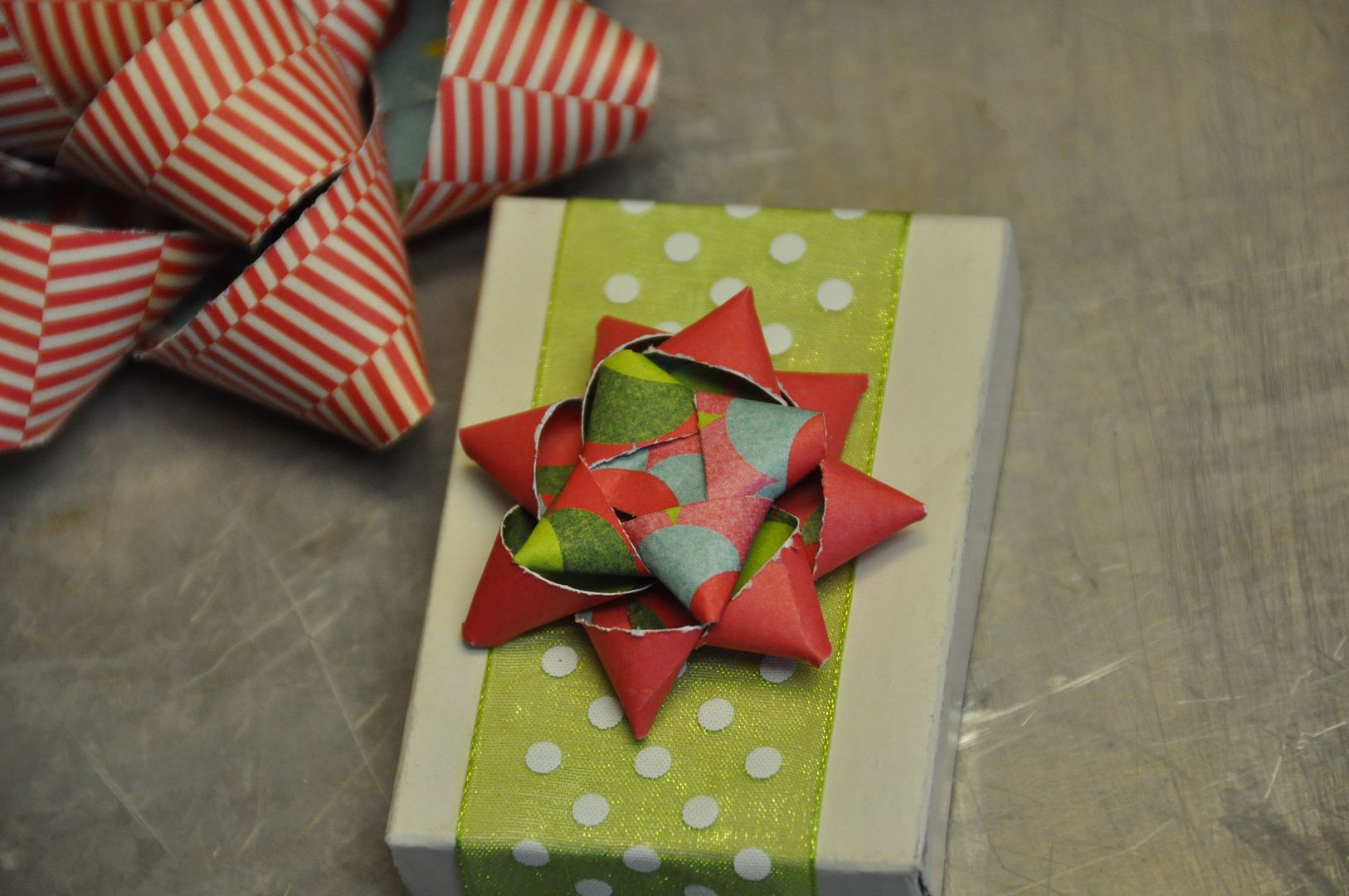 You can also make a mini bow (about 2" finished) using smaller strips. Follow the directions above, but use the following sizes of strips: Eight 1/2x2 1/2", Five 1/2x2" (four for first layer and one for center).
I love the idea of using an adorable vintage image to dress up a package. There are so many sweet little Christmas vignettes available online for free! All you have to do is type "Vintage Christmas" into your search engine and you will have an abundant supply of fabulous images to choose from. Here is one of the vintage images that I used on my packages today:
Once you find a print you love, save it to your computer, print it out on cardstock, punch a hole and attach it to your gift.
Vintage images are perfect for creating a themed tag as well. You can modify your search to include a theme such as "Vintage Christmas Cookies" or "Vintage Hawaiian Christmas." This is a simple solution for "trimming" your neighbor gifts.
How about trimming up a gift with a simple tag? Did you know there are hundreds of FREE printable Christmas tag patterns available online. Just type "FREE PRINTABLE CHRISTMAS TAGS" into your search engine and you will have your pick of darling tags, waiting to be printed.
Once you download the tag patterns, print them onto heavy cardstock and cut them out. Punch a hole and tie them into your packages as desired.
Just incase you don't see a tag you love in your searches, here are some of my favorite free tag finds:
A Fanciful Twist
(pink and red mushroom and tree tags),
Living Locurto
(bright owl pictured above)
I hope you enjoy trimming your gifts with creativity! Have fun and let your imagination go to work and you will create a wrapping masterpiece!