Last St. Patrick's Day, my amazing friend invited me to attend her family Leprechaun dinner. I was so impressed by her great efforts to build family memories and unity as a mom. I have another stellar mom friend that hosted a formal manners dinner for her kiddos last Valentines. They inspired me to put a little extra effort into those little holidays.
In that light, there is no better way to celebrate Valentine's Day than with your loved ones. If you aren't going out for a night out on the town with your sweetheart, try throwing a lovey-dovey dinner for your kids and hubby. Today on Studio 5, I showed ideas for throwing a last minute Queen of Hearts inspired bash that your family will ADORE!
The only rule for my Queen of Hearts Dinner is that if it is pink, red, black or white, it is in! In fact, think the Mad Hatter meets Queen of Hearts. An array of all colors Valentine make the dinner fun and unique and set it apart from the every day family dinner.
Next, if your royal dining hall isn't fit for the queen, it is time to decorate. I made simple decorations using patterned paper, playing cards and tissue.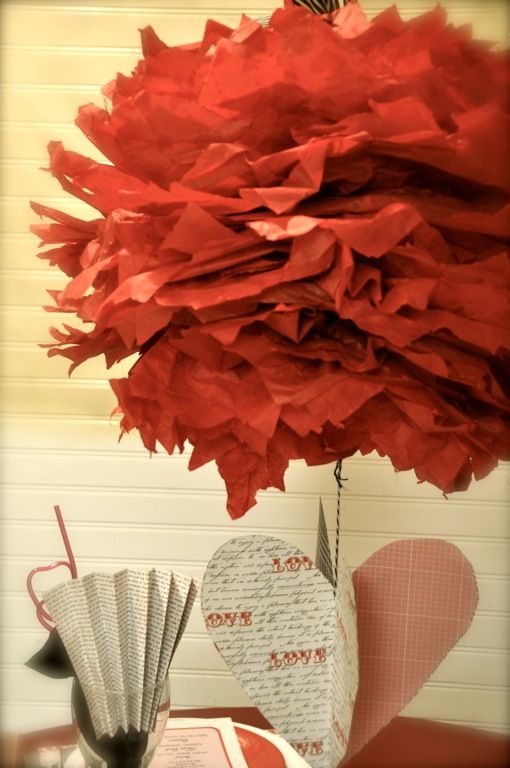 Instead of making a centerpiece that sits on the table, create a vertical piece that hangs from the ceiling or chandelier above the table. This will clear up valuable table space and brighten up the whole room.
The 3-D heart was simple and fun and added another dimension to the vertical centerpiece. Follow these easy picture instructions to create your own.

1. Fold pattern paper in half 2. Draw half of a heart shape onto folded paper 3. Cut out heart and trace onto 3 other papers. 4 Cut hearts until you have four 5. Adhere folded hearts together. 6. Unfold and punch a hole in the top to thread onto pom.
In addition to the tissue poms, I hung criss crossed garlands of playing cards from the ceiling above my table. These garlands were so simple and inexpensive to create, but added a big effect.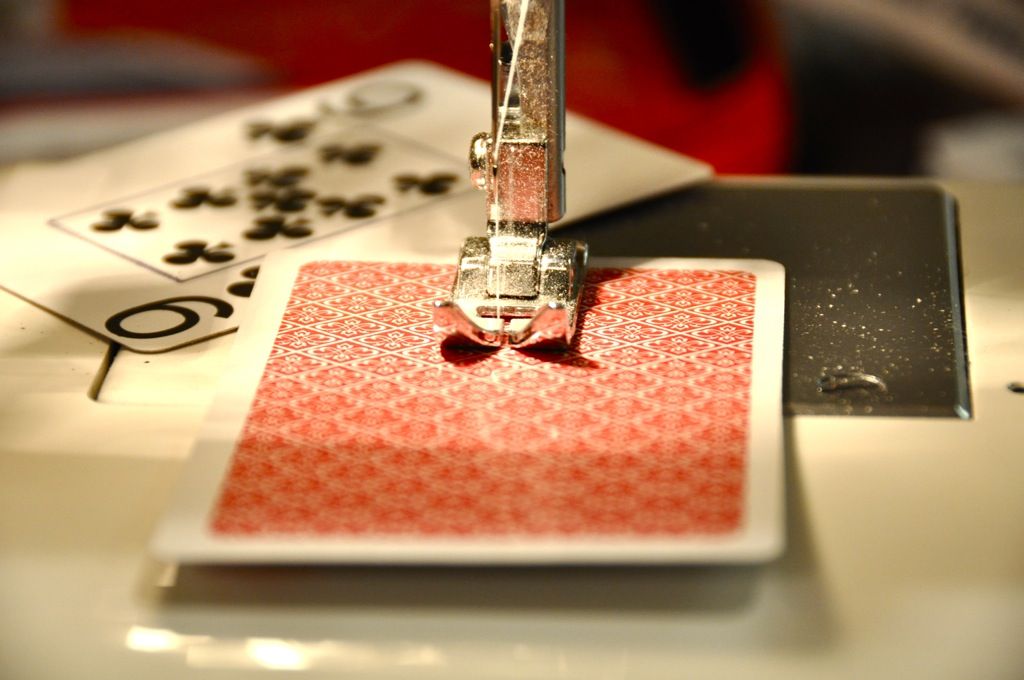 To create a playing card garland, simple sew a pack of classic red playing cards end to end. I turned some cards vertically, some horizontally, some right side up, some upside down. *Remove the "Hearts" cards before sewing and reserve them for your other party projects.
I added a little love to each dining room chair by cutting large hearts from pattern paper and tying them onto each chair back with decorative ribbon. Then, for a touch of the queen, I tied on a simple "heart" playing card with some pom-pom ribbon. So easy, but so sweet!
Once you've brought love into the air, it's time to set the actual table. If you don't have red, pink, black or white dishes, go for colorful paper plates. Remember, Mad Hatter meets the Royal Court. Don't be afraid to mix a paper plate with your sterling silver.
The excitement of my dinner setting was all in the cup! I used a clear goblet filled with a black accordion folded paper napkin as the base for each place setting. I then accordion folded a 6X12 strip of pattern paper and tucked it behind each napkin. The cups were topped off by playing card place cards and a heart shaped straw.
Once the planning, preparing and decorating is done, it is time for fun and games! Make your Valentine dinner over the top by providing dress ups for family members to wear at diner. Pull everything pink and red from your costume bin, then stop by the dollar store for some finishing touches. My Queen of Hearts costume closet includes, oversized pink glasses, a heart crown, pink beads, pink and black boas, red fairy wings, red gloves and more.
Kids will have a blast dressing up and seeing mom and dad get silly as well.
I am so excited for Valentine's to come around. I hope each of you have a wonderful day and enjoy hugging and kissing those you love!