We all know that having kids home for the summer means more messes to clean up. Although summer is a great time for the kids to relax and have fun, it is also important that they contribute to the family and learn responsibility. Today on Studio 5, I showed some fun ways to motivate your kids to get their chores done every day. Each of these charts can be designed to fit your family's individual needs...That's the beauty of handmade!
Magnetic Board with Clothes Pin
I love this chore chart because not only does it accomplish it's purpose, but it is also so cute. The basics of this chart are magnetic chores placed on a magnet board. When the child finishes a chore, they can move a clothespin to the appropriate chore, marking each one off as it is completed. You can create a chart for each individual child, or create one family chart and make the chores color coordinated for each child.
To make this board for your home, you will need a magnet board, magnetic strips(with adhesive on the back), mini clothespins, patterned paper, mod podge and any additional embellishments you would like to use.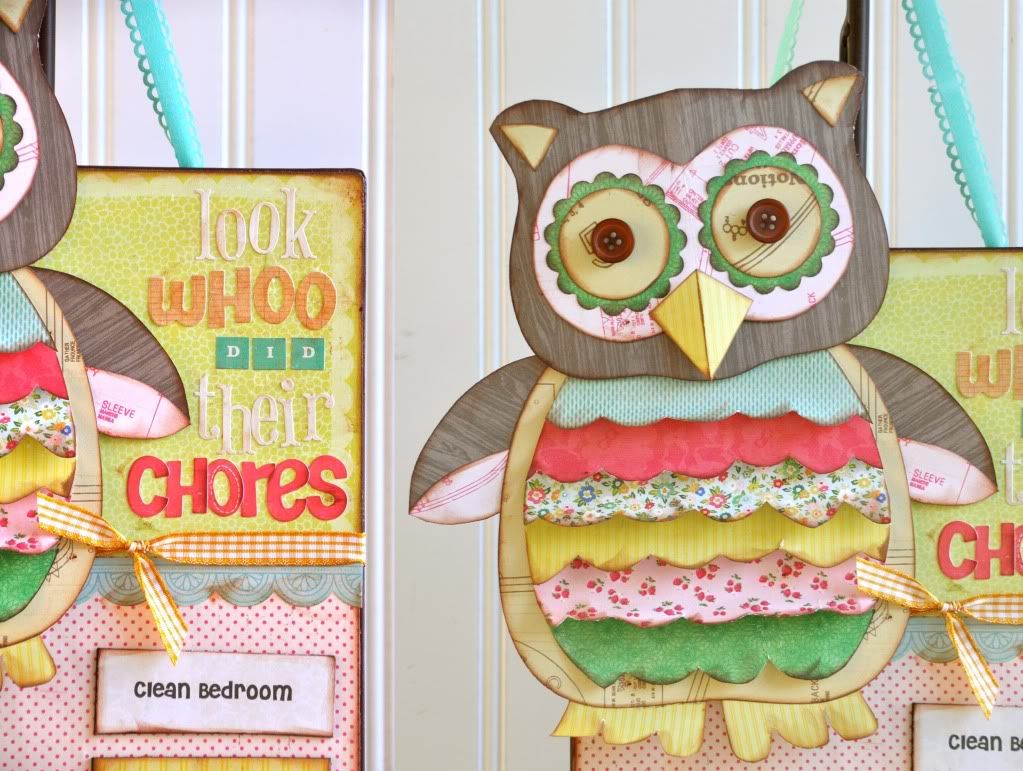 I made my board Owl themed, just because I love owls. Use your creativity to pick a theme of your own. I purchased this magnetic board at Michael's for $3. It had a pre-printed calendar on it, but I knew I would make a quick change to that. You can use any size of board for this project, different sizes can meet your family's needs. To assemble the board, simply mod podge your patterned paper onto your board and decorate it as desired.
To create magnetic chore strips, print chores on coordinating paper and adhere to magnetic strips. Cut to size. Extra chores can be stored on the back of the chart for safe keeping.
I picked up my mini clothespins at the craft store. To dress them up, I mod podged a strip of patterned paper to the top and adhered a button to finished it off.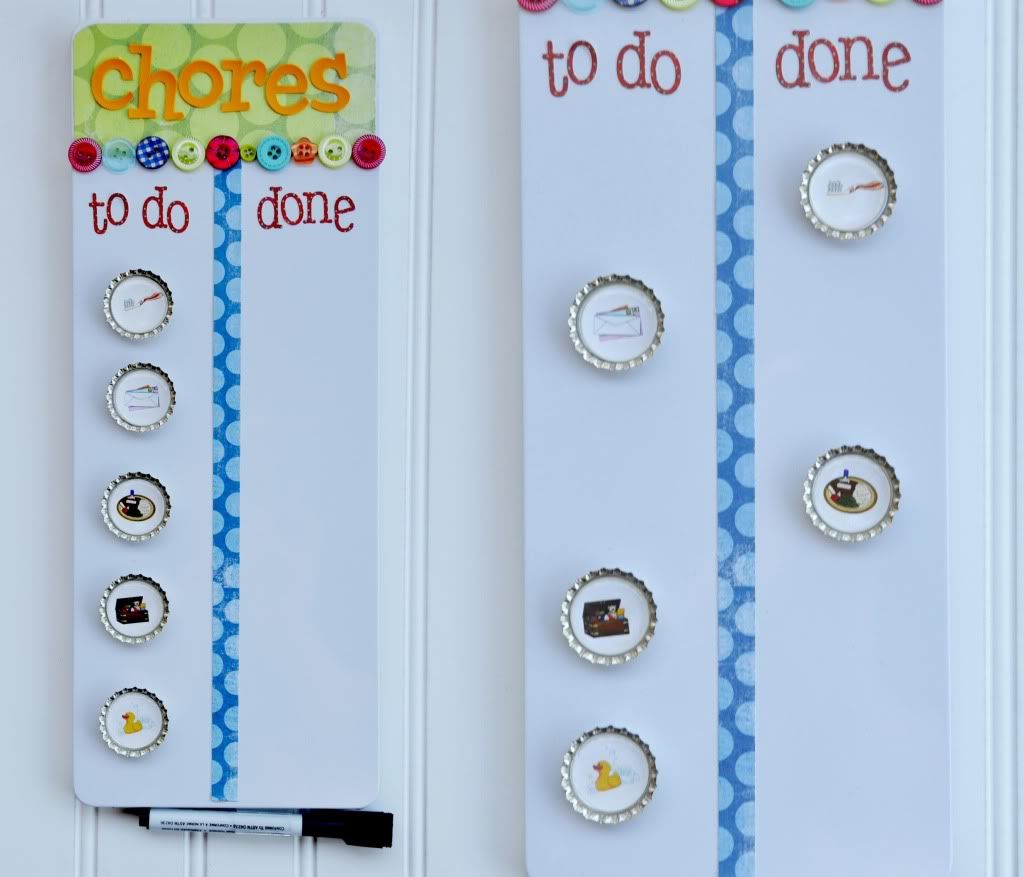 Dry erase boards make great chore charts because they are naturally magnetic and can also be easily written on and changed. I picked up this small magnet board at Walmart for a few bucks. What a steal!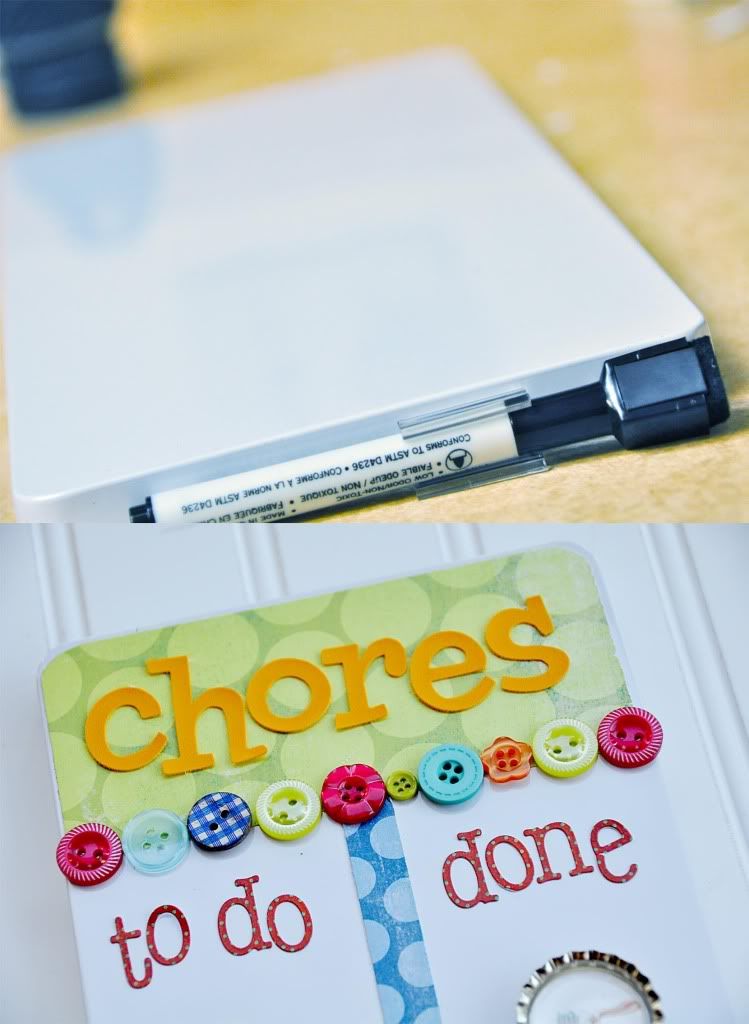 I adhered patterned paper, stickers and buttons to create my chore chart. So simple, quick and inexpensive!
Bottle cap magnets
are placed on the chart each day and moved from column to column as they are completed.
To make the bottle caps, I create individual
chore circles
, punched chores out of cardstock with a 1" circle punch and adhered them to the center of the bottle cap. A magnet on the back and a clear epoxy topper complete the cap.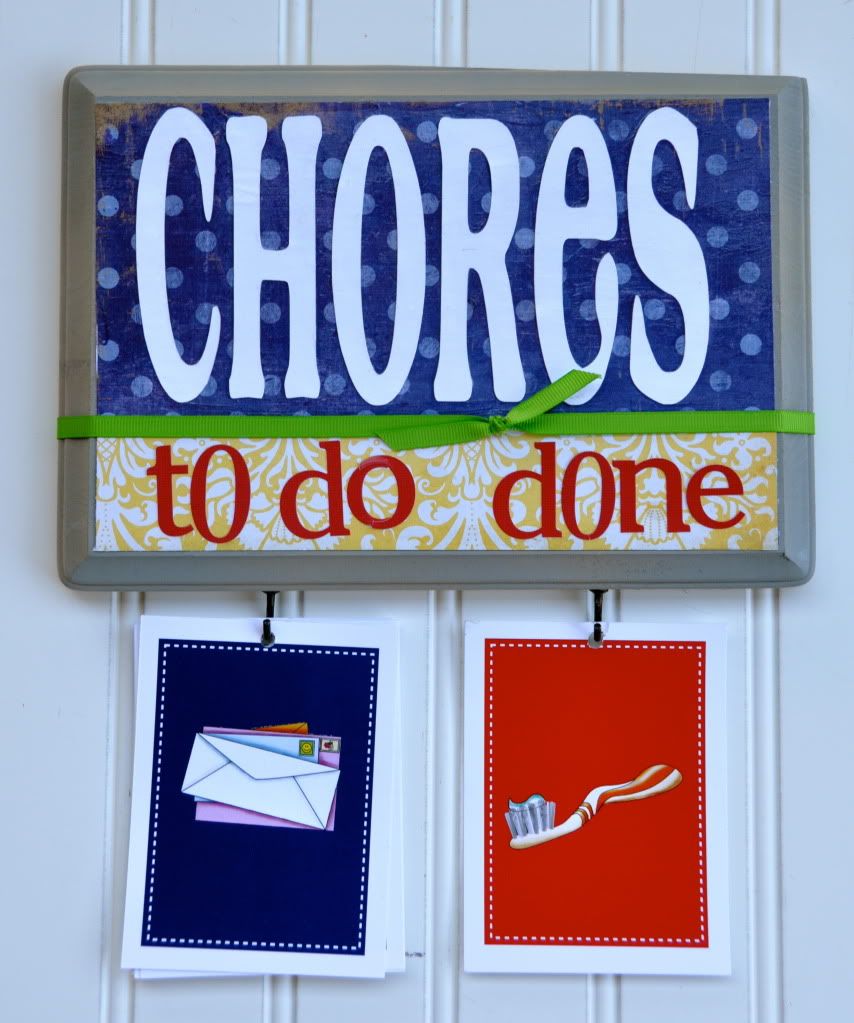 This is a wood plaque designed for an individual child. I painted a plain wood board (available at craft stores) and then screwed in two c hooks to the bottom of the board. Mod podge, patterned paper and stickers completed the board.
I also created individual
chore cards
, which I printed on white cardstock and trimmed into individual cards. You can download the
chore cards
I created for free, or create your own. I also included some blank cards in the download so that you can customize a few chores of your own. As the child completes their chore, they move a card from one hook to the other. I recommend laminating your cards for safe keeping.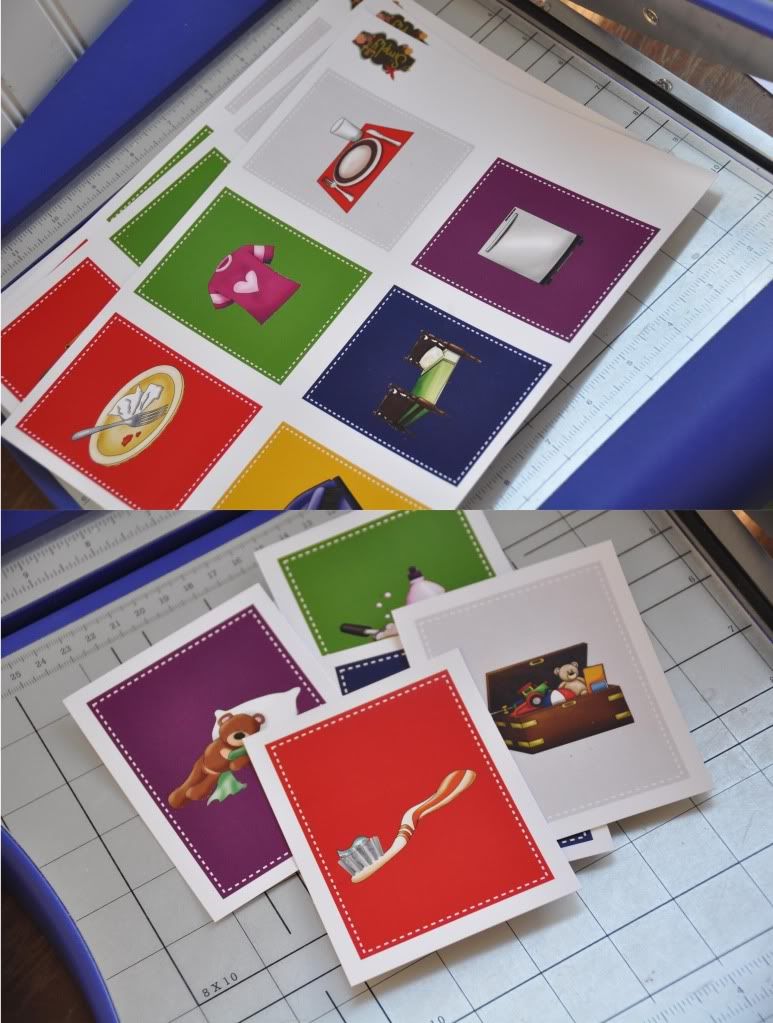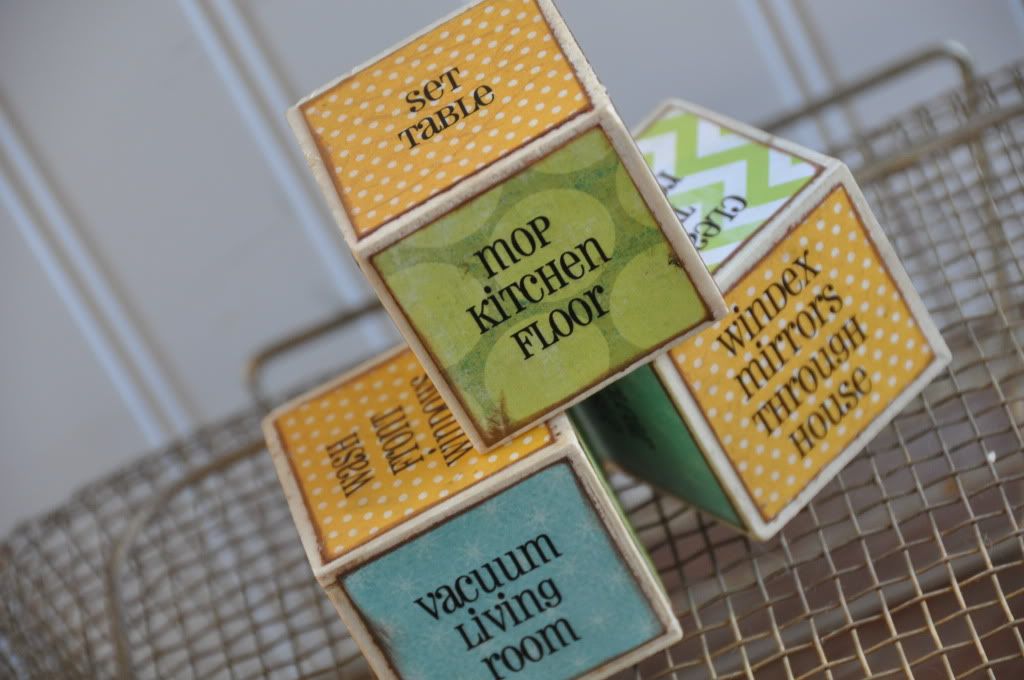 This is a great option for summer jobs that aren't typically done during the school year. Each side of a wooden block is decorated with a chore (mow lawn, pull weeds, etc). Each day, kids have to roll dice to determine the chore they will do that day. I made three different dice so they could get a job off each one. Try coordination chores on the blocks so they will get a variety of chores. Kids can also roll dice to earn extra money/priviliges, or when they are misbehaving or complaining about being bored...they get to roll the dice.
Family Chore Jar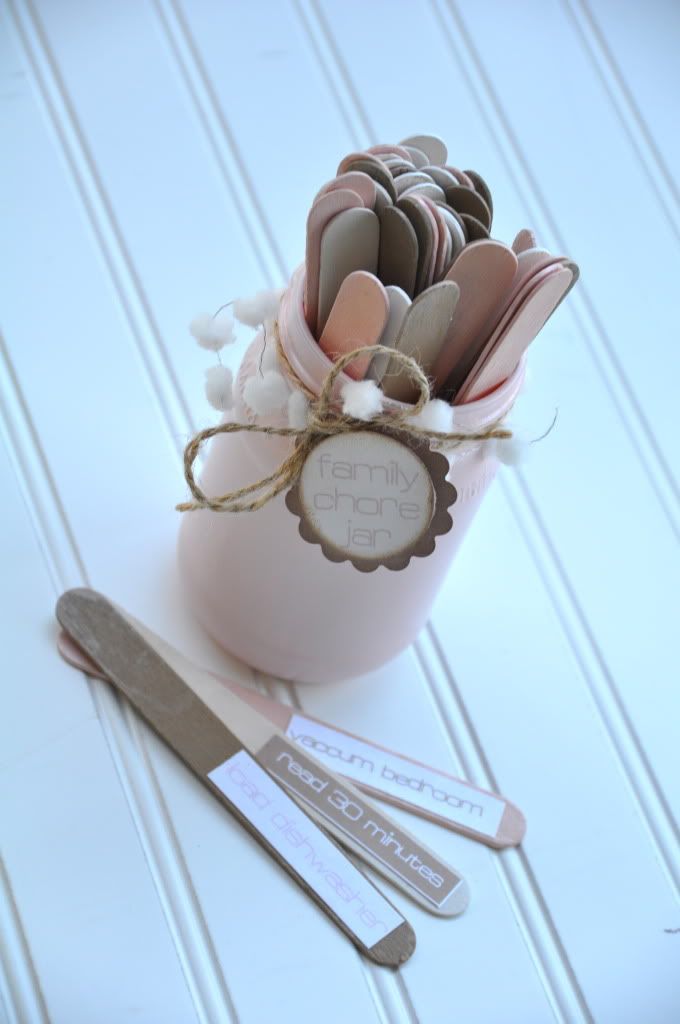 It is so easy to create a "family chore jar" of your own.
This jar is full of decorative popsicle sticks with individual chores on them. Chores on the sticks should be those that are just needed once a week or so...not everyday responsibilites. I painted my sticks in three colors. This creates a color code for difficult, medium, or easy chores. I printed chores on cardstock and adhered a strip to each stick.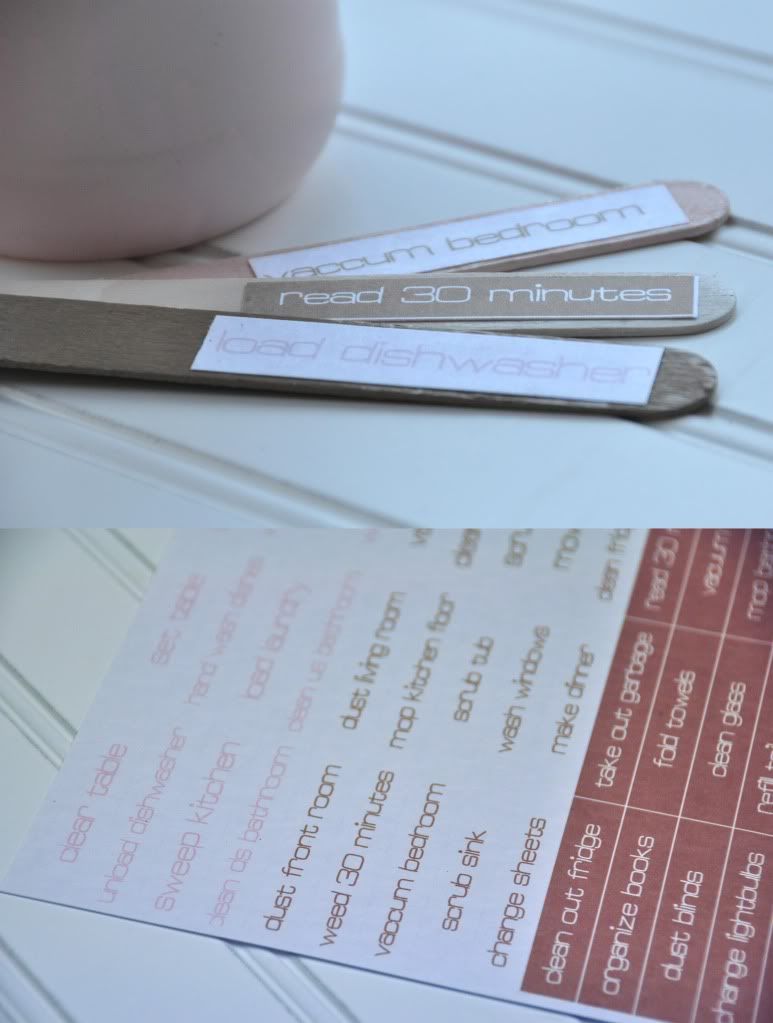 Each day kids take turns pulling sticks for daily chores. Pulling chores could also be used to earn extra priviledges or as discipline for poor behavior. As sticks are completed, they can be put in a separate jar, by the end of the week, all the sticks should be pulled. You can also create individual child jars and divide the sticks into the jars at the beginning of the week. This gives you greater control of who does what job. If you have younger children and older children, you could also color code the sticks according to child.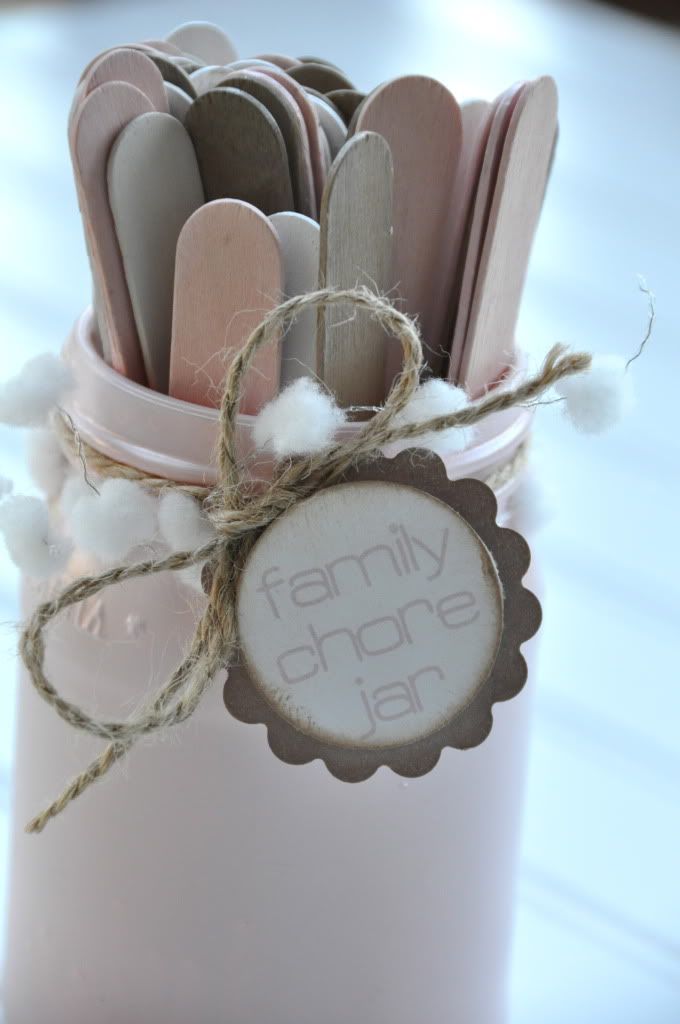 Digital Framed Chore Charts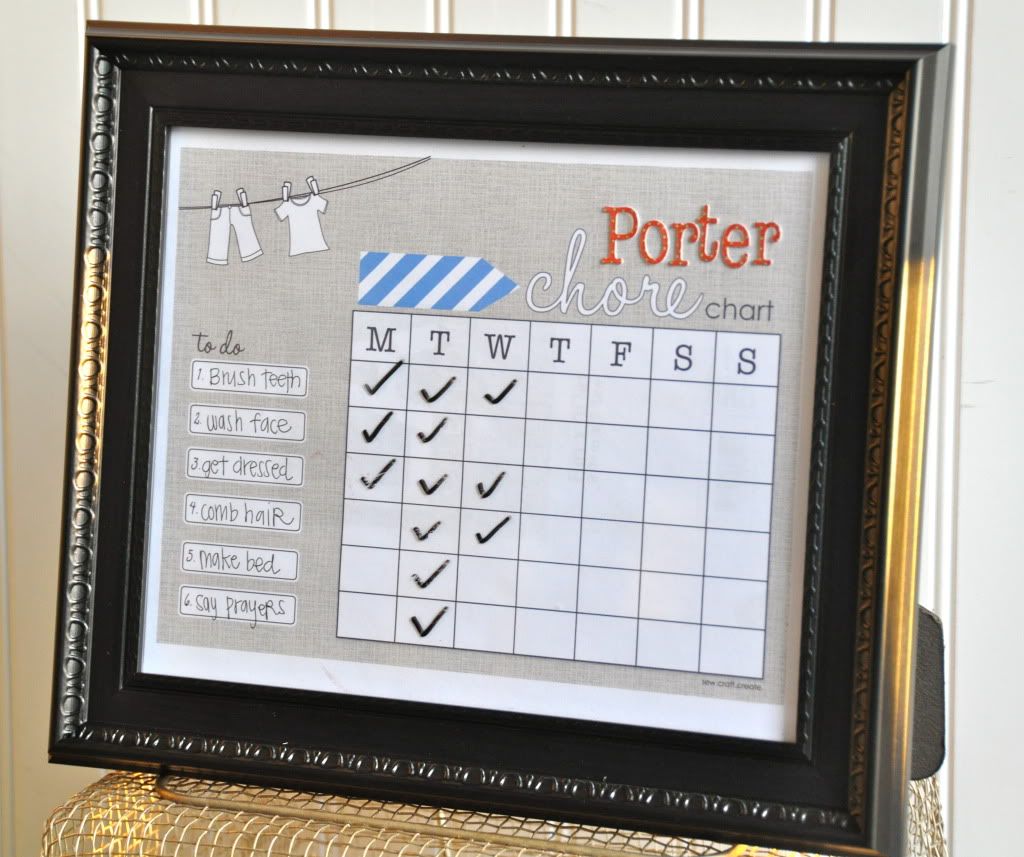 Creating a framed chore chart for your kids is a snap. I searched for "downloadable chore charts" online and found hundreds of adorable printable options. I simply printed the chart I chose and placed in a frame. I added a touch of fun by placing the child's name in stickers on the front of the frame glass. The child can use a dry erase marker to mark off the chores as they are completed. At the end of the week, the chart can be wiped off and started fresh.
Try searching online for a chore chart that is perfect for your kiddos. I found mine at Sew, Craft, Create. She has a boy and girl version that are just perfect!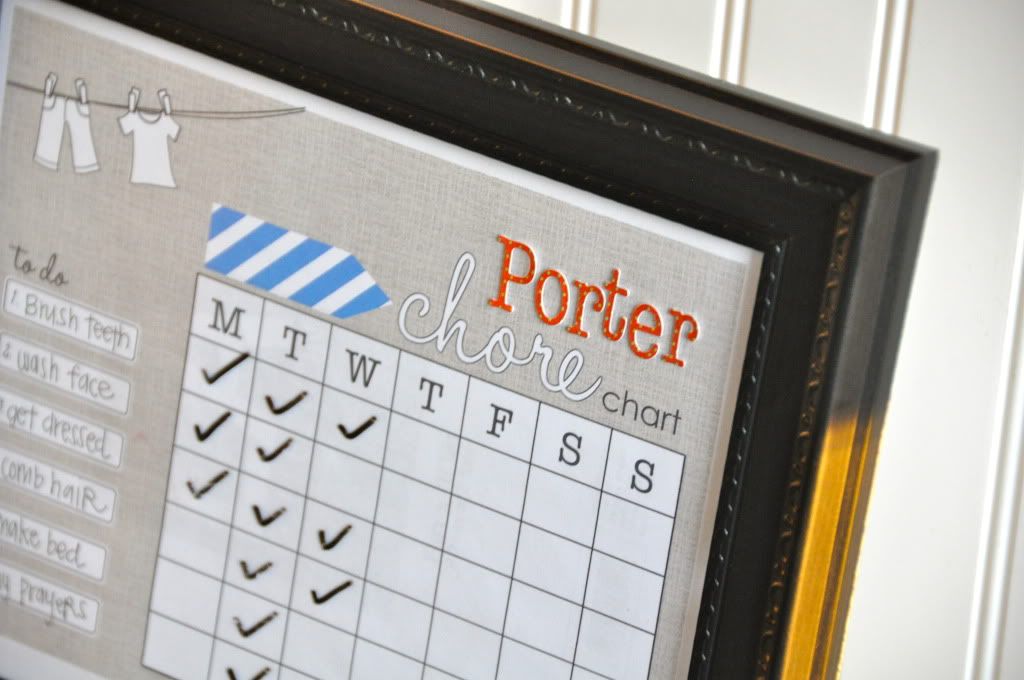 Chore charts are a great way to start your summer off right and teach your child some great responsibility.