Throughout the years, Becky has always been my "best cousin". I looked forward to our trips to Grandma's because they always included lots of stories, laughter, performances and mischievousness with Beck!
This last weekend, I had the pleasure of taking photos of her beautiful family. I must say, a lot has changed since our summers spent picking raspberries and imagining princes. Time really does fly!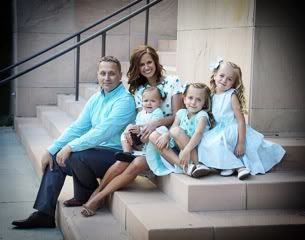 It is always a little tricky to coordinate three kids of different ages, but the girls did great and they looked extra adorable in their coordinating Tiffany blue outfits. It was especially great to utilize the soft evening light of summertime. If you can believe it, we finished this shoot around 8:30pm. Thanks to Becky for letting me play at photographer for the evening. It was a great chance to learn and work on my skills.
Here are a few of my favorite shots.