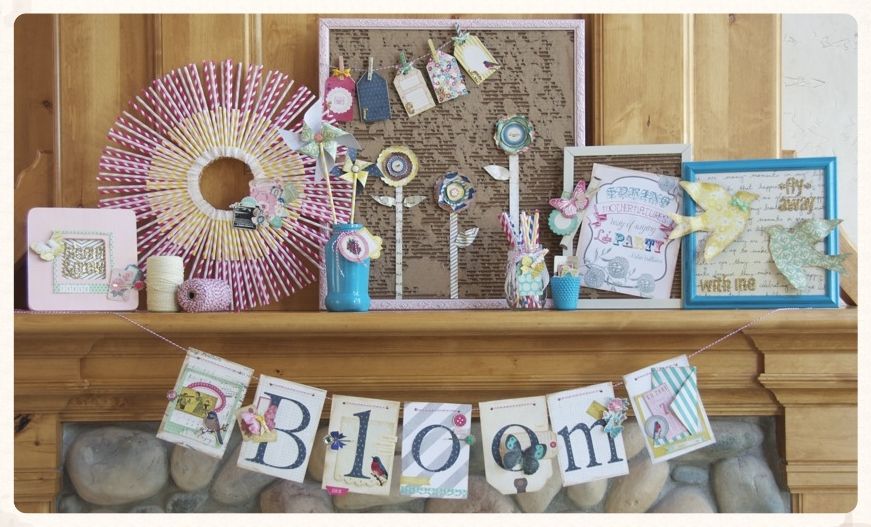 Spring has sprung!

After a long, dark winter, we could all use a little pop of sunshine in our homes, and the mantel is the perfect place to make a statement.

If you don't have a mantel, don't despair, you can bring this same spring spirit to your home using a simple shelf.

Using just a few paper crafting supplies combined with some thrift store treasures, I've created a mantel I just love! Today on Studio 5, I showed off my spring mantel and I can't wait to share it with you as well.
Beginning a new mantel from scratch can be overwhelming.

Before you can begin, you need to gather all of the important elements. Think of your display as an artistic vignette.

You want to create a theme that flows and draws the eye across the whole landscape. I love these great tips from
Steven and Chris
that help to demystify the mantel process.
1. Large Centerpiece-
This

is the main weight of your mantel.

(three flower large frame with banner)
2. Layers- Layer art and photos in front of the centerpiece (multiple layers of different frames)
3.

Movement

- Add something with movement. Movement means something that causes your eye to bounce to another object because of the varying heights. (the straw wreath works to move your eye here) At this point, a triangle shape should start to form. Remember to stand back every so often, squint and adjust accordingly.
4. Visual Weight- Incorporate an element with visual weight.

This means something that your eye is drawn too.

An eye catcher!

(The straw wreath definitely catches the eye and adds weight to the mantel)
5.

Finishing touches -

Finish off the vignette with accessories that reflect your personality like souvenirs or items from a collection. (spools, jars, banner)
Once, you've imagined the general idea of your mantel, it's time to start gathering materials. You can recreate my mantel exactly using the same products, or piece

together a similar look from your own stash.

Take my ideas and cater them to your own color scheme and available products.

Let your imagination take over to turn your space into a one of a kind masterpiece!
My mantel was crafted using the fresh, new Maggie Holme's line from Crate Paper I was drawn to the soft pastels and bright pops of bold colors in this line.

Of course I love the vintage elements in the designs, but another thing that caught my eye about this line was the pre-made accessories. They made putting together my mantel a snap!

I used the pre-cut shapes and die-cuts throughout each of my projects to tie the different elements together.
I picked up a few frames from the thrift store to create the strong base of my design.

I chose a variety of sizes and styles so that my mantel would have lots of levels.

If you can't find larger frames at the thrift store, consider using a large mirror for your centerpiece.

You can cover the mirror completely with products so you don't even know it is there, or keep the reflective surface for a different look.

I used basic spray paint in coordinating colors to unify the frames.

After a few coats, the originally random frames became a cohesive blend of springtime sweetness!
In addition to the straw wreath (instructions to follow), I used mason jars, ribbon, and baker's twine spools to spice up my mantel.
Here's how I implemented the five key elements above to create my "Vintage Swap Meet Spring Vignette".
Large Centerpiece-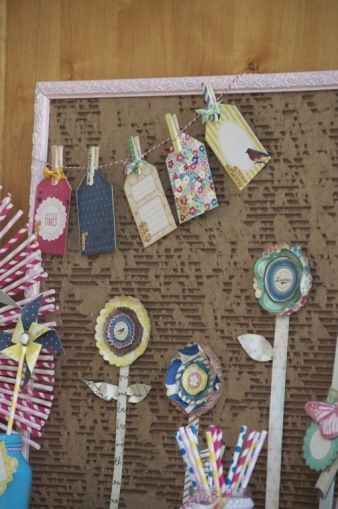 I repurposed an existing frame that I had in storage by spray painting the pearly gold frame to match my paper line.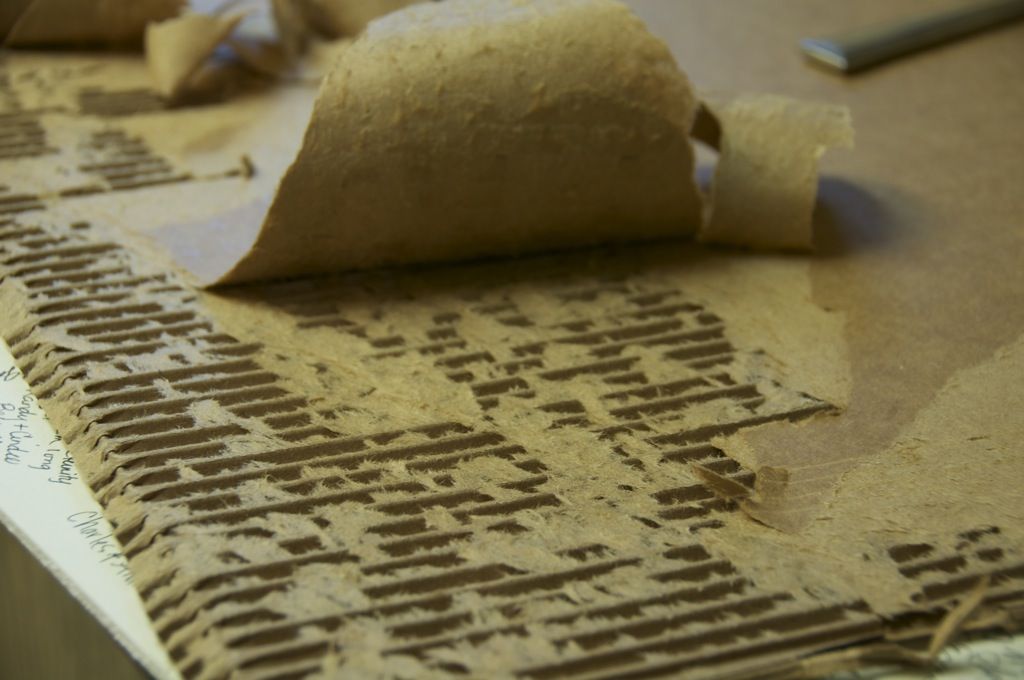 I used a large cardboard box to create the recycled background in my frame.

To create the corrugated look, I peeled the top layer of paper from the board after I had cut it to size.

I love the way the cardboard looks earthy and rustic.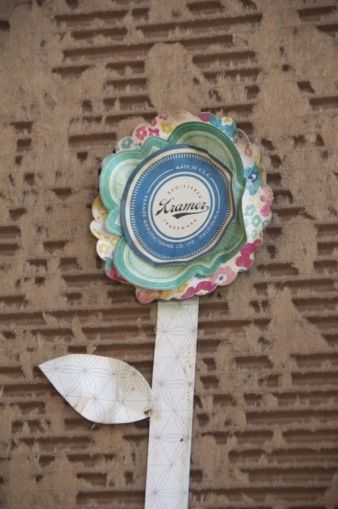 I cut simple circles of patterned paper and bent them into shape to create three posey flowers in the frame.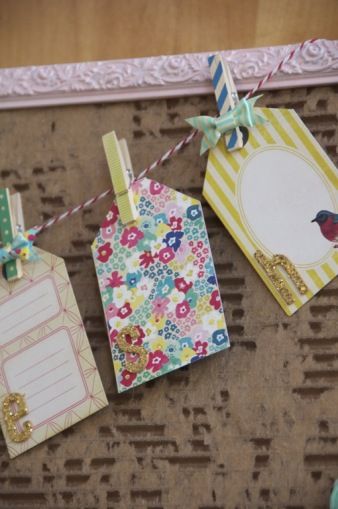 For a little extra pizzazz, I crafted a mini banner using the Maggie Holmes paper clips and tags.

Draping the banner along the frame edge added just a little accent to draw the eye.
Layers-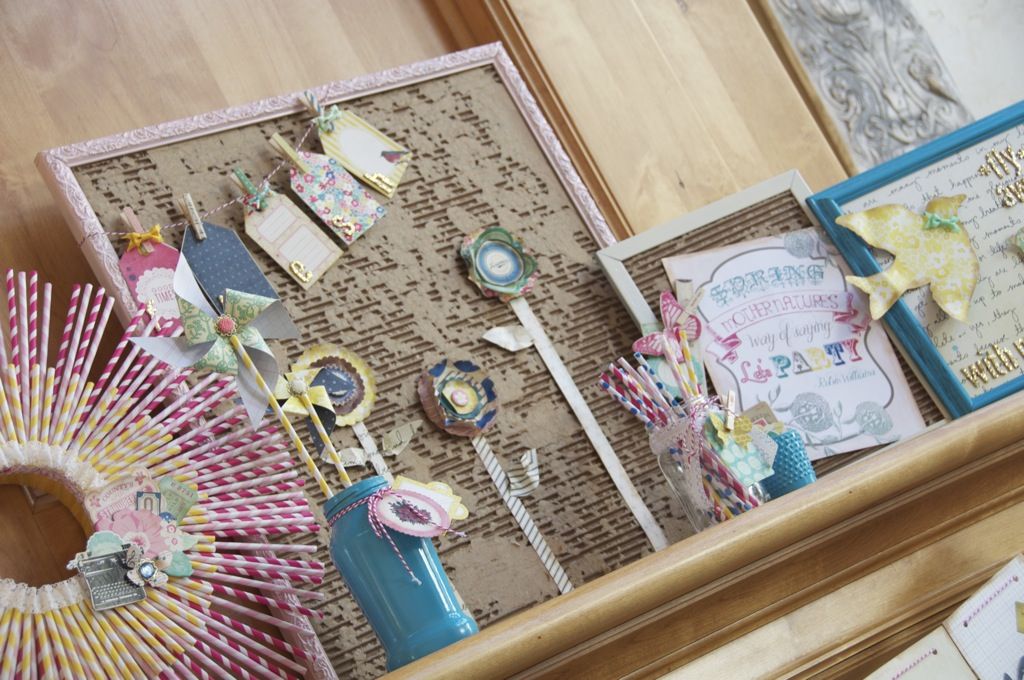 I used three varying sized and shaped frames to fill the visual space of my mantel.

Each frame was painted a coordinating shade and filled with an original art piece.
Bloom and Grow-

This frame is so simple, a basic background paper, a few sticker letters, and some ephemera embellishments is all it took to call this little beauty complete!

Adding art to the actual frame as well as inside it, creates depth and visual interest.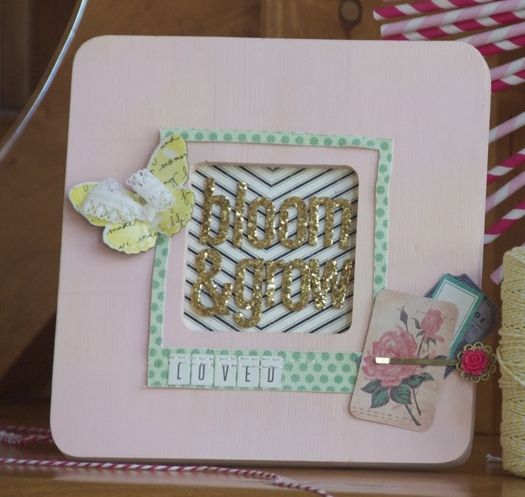 Spring Printable-

I created an original Spring Printable (download and print on white cardstock for free!) to make recreating this frame a cinch!

I used a frame slightly bigger than my 8x10 artwork so that I could use another cardboard backer.

A few dimensional embellishments add excitement to the otherwise flat piece.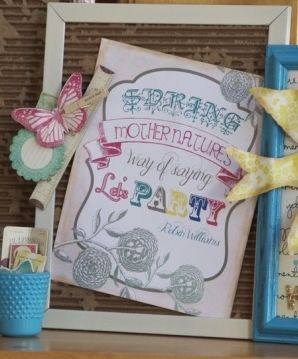 Fly away with me!-

This frame took flight with my dimensional paper birdies.

(You can print and cut the template to create birdies of your own).

I used a patterned paper and sticker letters as backdrop for these flying friends.

To create dimension in this frame, I bent the wings and tails of each bird and adhered them overlapping the frame.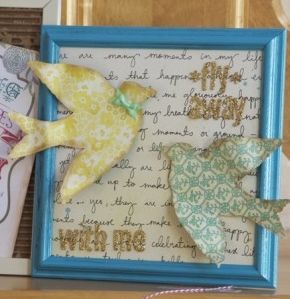 Movement-
My vignette naturally creates movement with different shapes and sizes. Your eye naturally flows from one element to another until it takes in the whole scene.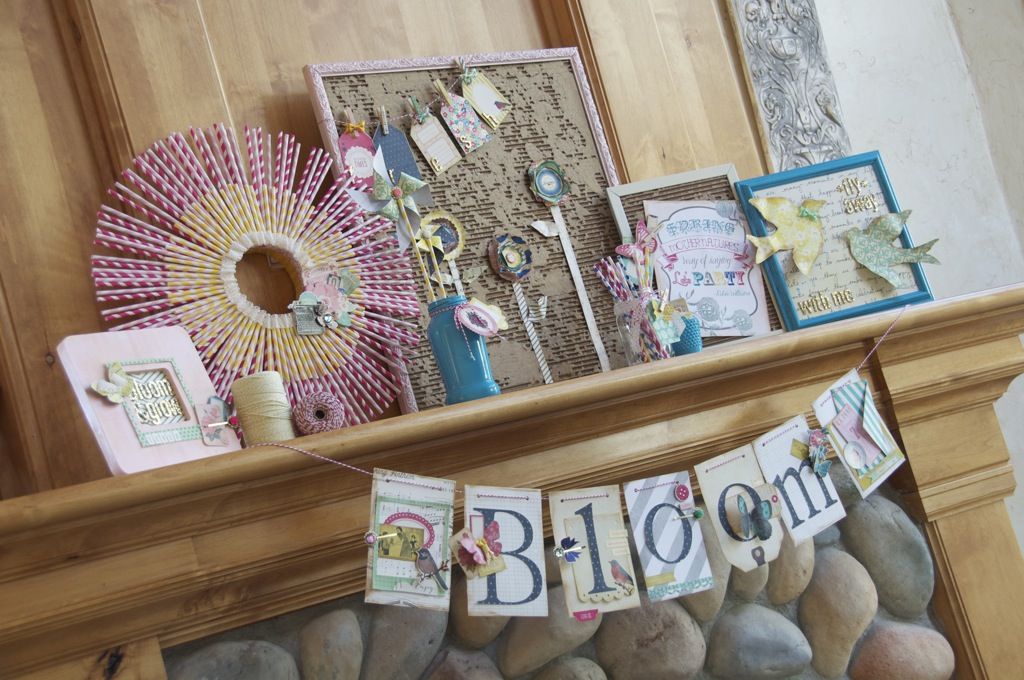 Visual Weight- I used a handmade paper straw wreath to add weight to my mantel layout.

This wreath was such a breeze to assemble.

You can create your own with just a few items. Check out the step by step instructions for the Paper Straw Wreath in the previous blog post.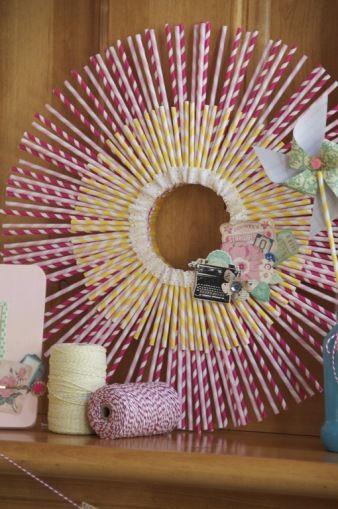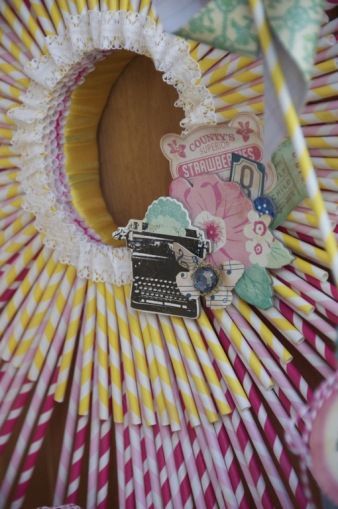 Finishing touches-
The little bits and pieces that fill in the gaps are always my favorite to piece together. The little extras are what really gives your vignette life and character! The best part is, these little fill in items can be found around the house for no additional cost.
Glass Jars-You can't go wrong with glass, and mason jars are my favorite!

For extra excitement,

I used spray paint to add a fun pop of color to two of the glass jars in my vignette.

(To spray paint jars, spray a light layer of paint inside jar, allow to dry.

Continue to layer paint inside until jar is well coated.

Allow paint to dry well between layers)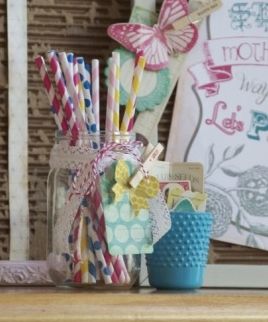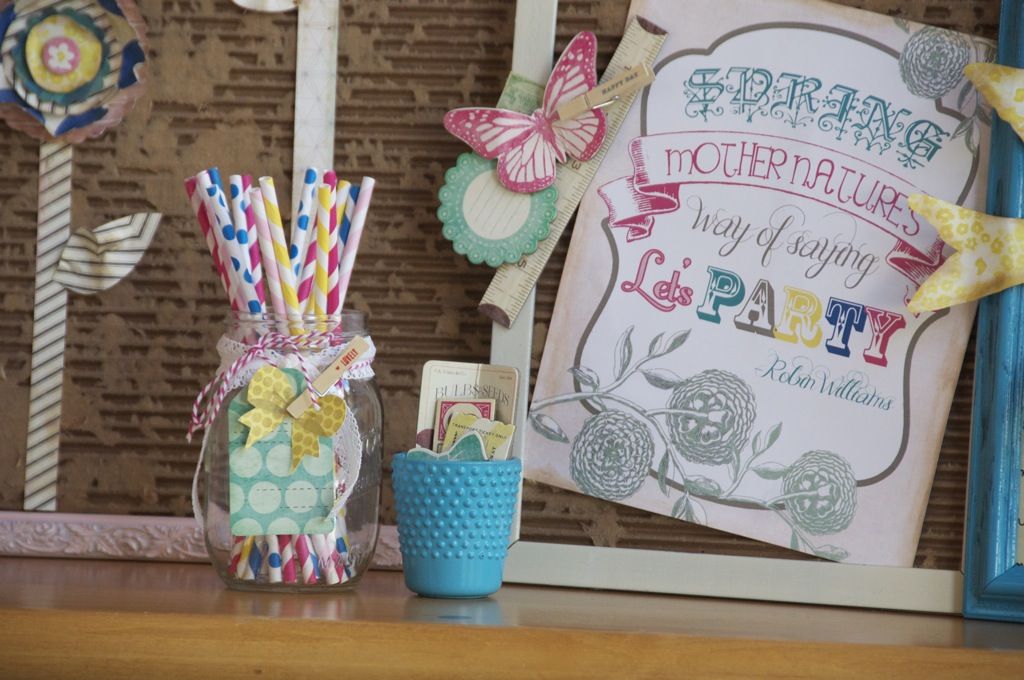 A few extra straws and ephemera elements are the perfect filling for smaller jars.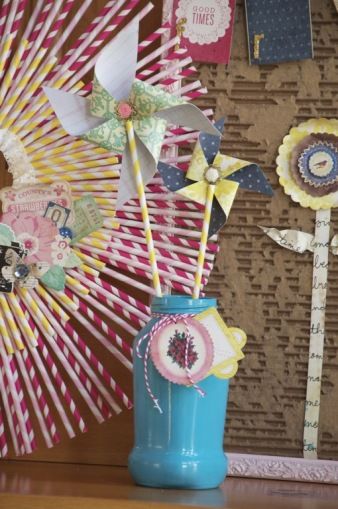 To create some height variation, created a few handmade paper pinwheels to the largest of my jars.
Spools-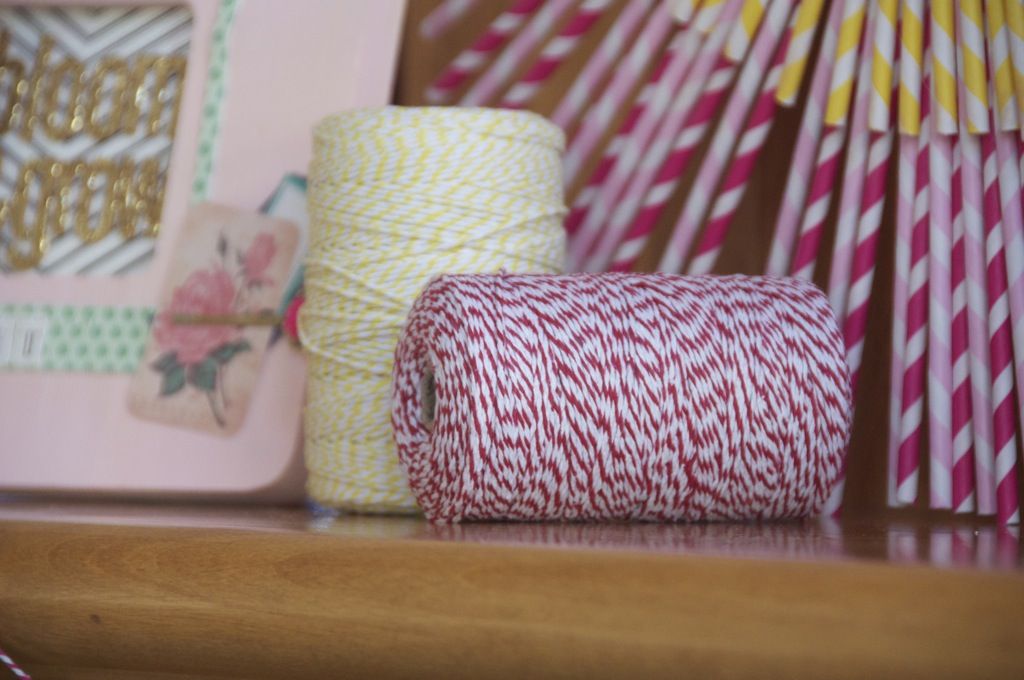 Colorful spools of bakers twine add a great "homespun" feel to my swap meet style vignette.
Bloom banner-

This banner was crafted using the Maggie Holmes Clipboard Album as a base.

The precut and designed album pages made the perfect backdrop for my die cut letters.

Each page was strung onto a strand of bakers twine and decorated with bits and pieces of ephemera from the line.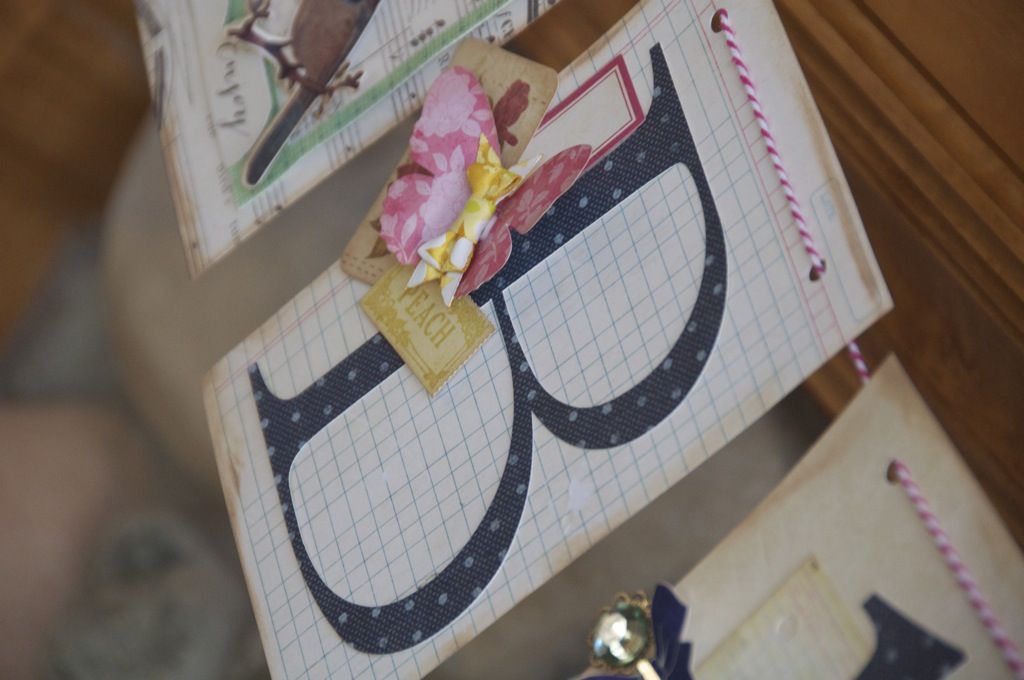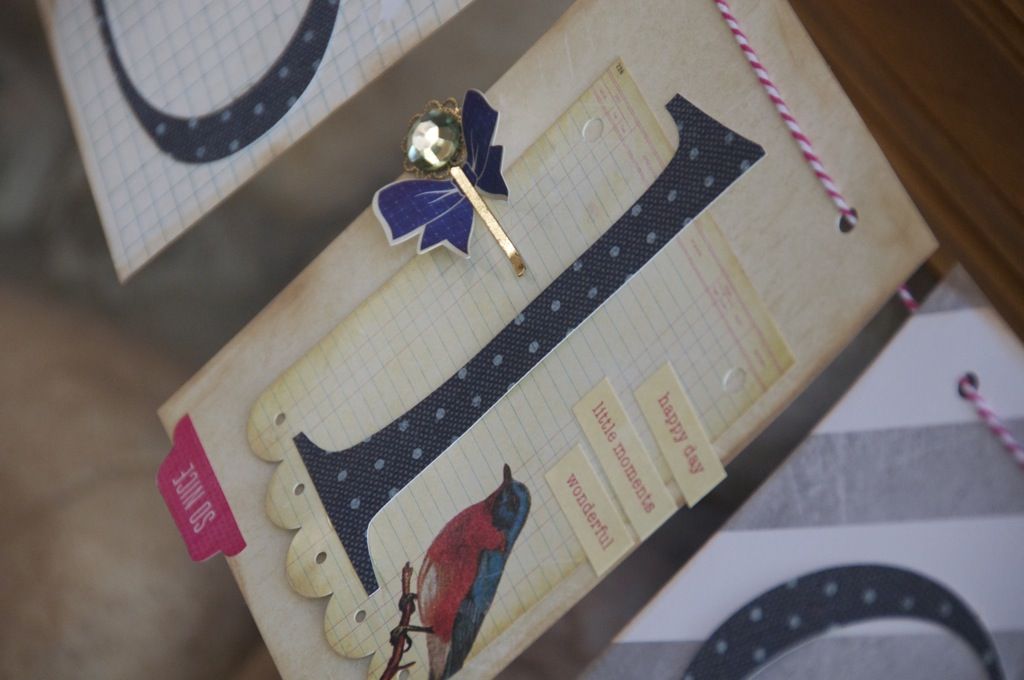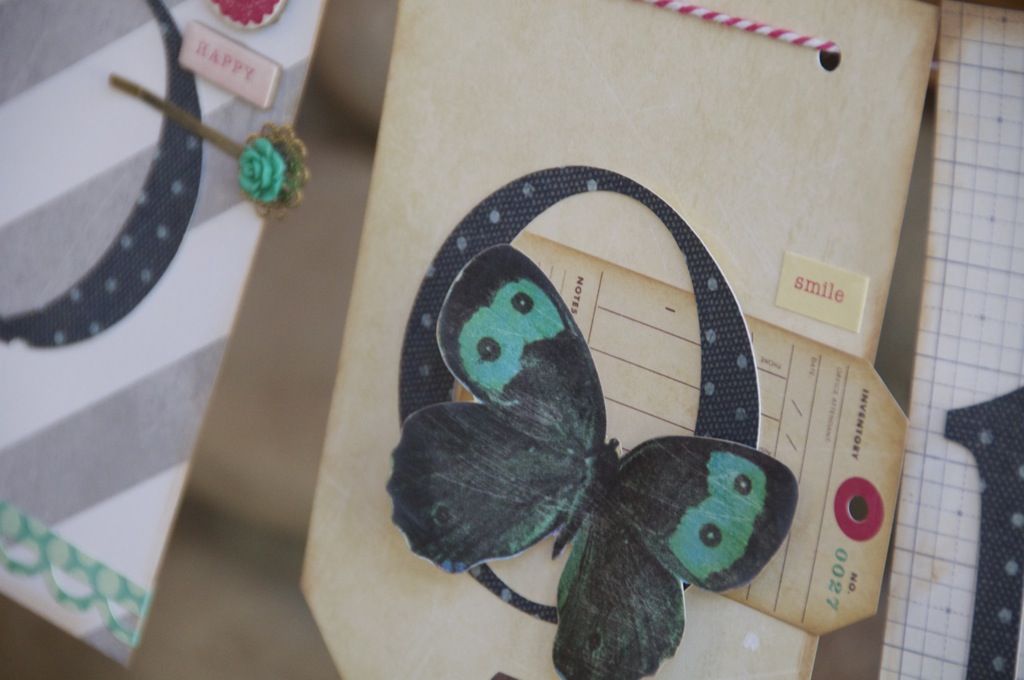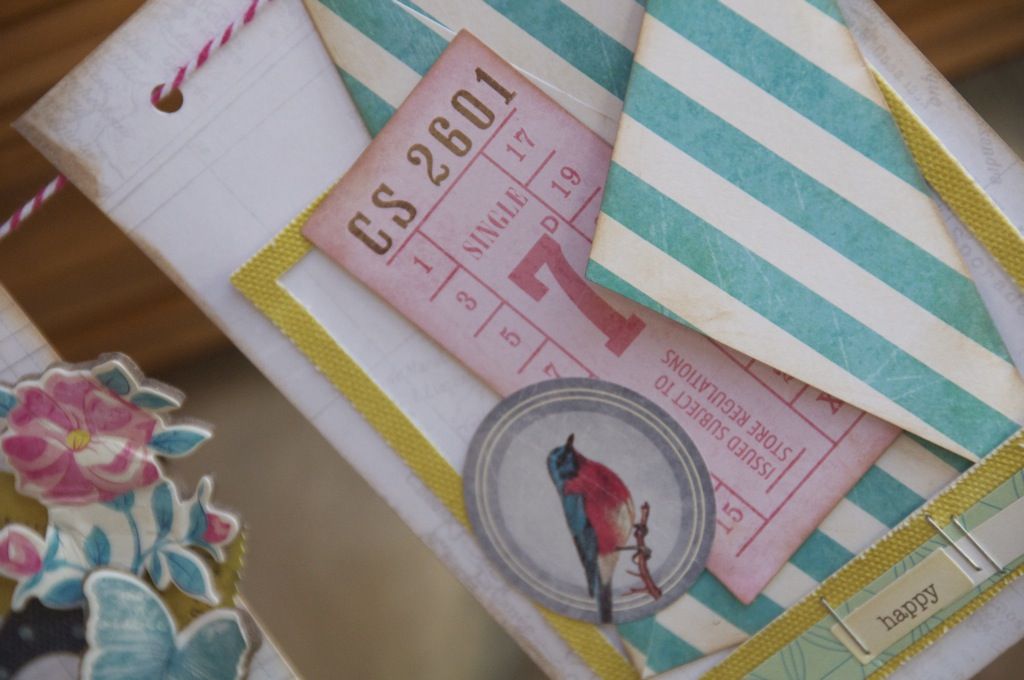 I love the random tags, tickets, flowers and bows that come together so nicely in this project. You can recreate the same banner easily at home using the Maggie Holmes line, or, if you prefer a different look, cut backgrounds from your choice of patterned paper. I used my Silhouette digital cutter to craft up my BLOOM letters. If you don't have access to a digital cutter, try using die cuts at a local scrapbook store, or print letters from a computer, trace them on to your choice of paper and cut them out.
Once you've crafted up all of your elements, assemble your mantel and enjoy it throughout the season!