Studio 5 - Nursery Makeover
Welcoming a new baby into your home is such a big life step! Since my brother and sister-in-law, Jessi, will be welcoming their first baby this spring, they've been making all the necessary preparations...the nursery being a major piece! In conjunction with Studio 5, I teamed up with Jessi to create a whimsical wanderlust nursery that she'll love laying her sweet baby to sleep in. Goodness! I love it so much, I may be sleeping over too!
The idea for the nursery really began at the top...Literally! Despite Jessi's reservations, I convinced her that we just had to do a hot air balloon ceiling for the baby's room. Now that it's complete...We both couldn't be happier! It is so fun and happy, you can't enter this room without smiling! See the full instructions for
creating a circus top ceiling of your own here
.
Since Jessi and I both have a love of travel and wanderer hearts, we concurred that this baby girl's room needed to instill the love of adventure, dreaming, exploring and soaring high. I love the thought of bringing motivation and strength into a room's decor, and that's exactly what we set out to do. Once the ceiling was complete, we added a number of hot air balloon inspired elements to tie in our theme.
Our gallery wall was built from a number of frames (check out your local thrift store and add spray paint), filled with a variety of hot air balloon images. I used free images found online and printed them at my local print shop. Try using your photo editing software to add inspirational text or even customize the color of your images.
A little baby bunting goes a long way. I love the way this little banner (pieced together from 2 pre-made banners available at Target) adds to this simple floating shelf.
Ever world explorer needs a good map! I designed this watercolor map and had it printed in large format at Costco. We then repurposed a thrift store frame with spray paint to create the perfect above the crib wall hanging!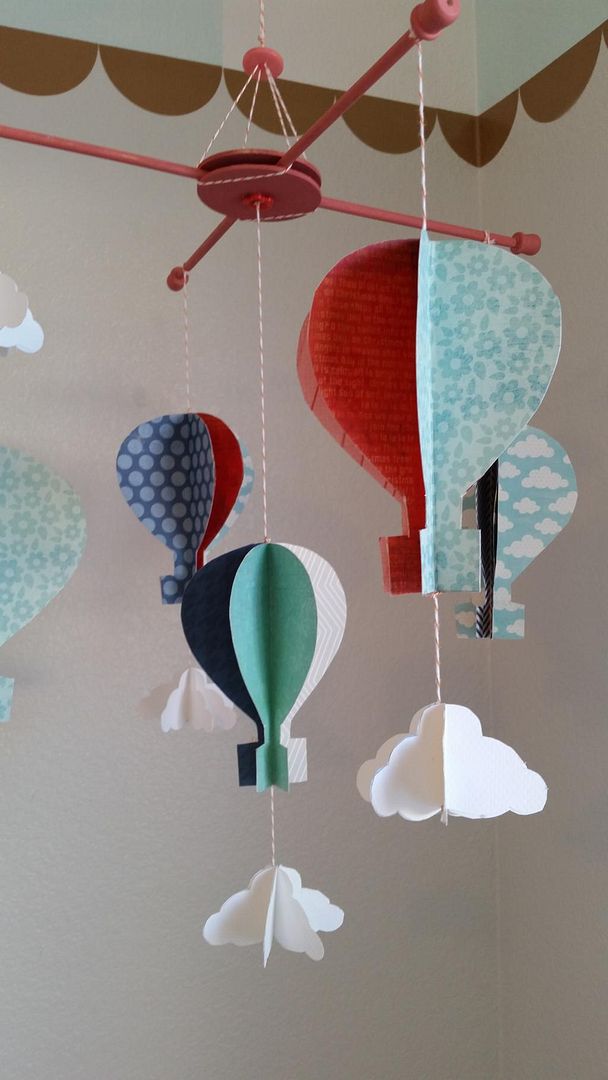 You can't have a nursery without a mobile! I love the way this little soaring mobile turned out. The best part is...it was so easy! Each balloon and cloud were hand drawn, cut in half, and then traced onto 6 sheets of paper, folded in half. Cut each pattern out (with the folded side staying in tact) and then glue the 6 sheets together. Attach string as desired.
Hanging the balloons from different heights allows for lots of movement for baby to watch.
I hung the mobile above the crib using a little c hook in the ceiling. So simple!
One of my favorite pieces of the room is this Anthropology inspired hand painted globe. Not only was it fun to create, but it is also an adorable accent piece for the travel inspired room. See the full tutorial for creating a globe of your own here.